Noahide News
Part
315
October 26, 2005
Talmudic Dragon Moon Calendar

Tishri,
23 their Babylonian times of their Babylonian Sumerian Doctrine and laws 5766

The FINISH

of Iniquity unto desolation for them who Deny the Christ, Jesus the Lord.
Extra Extra
http://www.shmais.com/picofdayall.cfm
Galloway To 'Lickspittle'
Coleman - 'Put Up
Or Shut Up'
The Respect MP accused Mr Coleman of orchestrating a
"sneak revenge attack" motivated by a desire to avenge
his "humiliation" at the hearing in May.

Galloway rejects senate perjury claims

The Independent - UK

Staff and Agencies
10-26-5
A furious George Galloway today challenged US senators to charge him with perjury over claims that he solicited money from Saddam Hussein's oil-for-food programme and lied about it under oath.

The US Senate inquiry into the Bethnal Green and Bow MP's alleged involvement in the saga claims to have discovered $150,000 (£85,000) in Iraqi oil money in his estranged wife's bank account.

Its chairman, the Republican senator Norm Coleman,

says this means Mr Galloway lied under oath when giving evidence to the senate permanent sub-committee on investigations on May 17, when he offered a passionate defence against similar claims.

Today Mr Galloway repeated denials that he had ever received any oil cash, and told Mr Coleman to "put up or shut up" by either bringing a prosecution or dropping the allegations. The Respect
ed

MP accused Mr Coleman of orchestrating a "sneak revenge attack" motivated by a desire to avenge his "humiliation" at the hearing in May.
"I am demanding prosecution, I am begging for prosecution," Mr Galloway told Sky News. "I am saying if I have lied under oath in front of the senate, that's a criminal offence. Charge me and I will head for the airport right now and face them down in court as I faced them down in the senate room.

"Because I publicly humiliated this
lickspittle
senator Norman Coleman - one of [George] Bush's righthand men - in the US senate in May, this sneak revenge attack has been launched over the past 24 hours."

The committee's new report accuses Mr Galloway of personally soliciting and being granted eight oil allocations totalling 23m barrels from the Hussein government between 1999 and 2003.

It claims his estranged wife, Dr Amineh Abu-Zayyad, received approximately $150,000 in connection with one allocation of oil. It also alleges that at least $446,000 was funnelled to Mr Galloway's Mariam Appeal through several allocations.

Senator Coleman said: "I directed the sub-committee to continue its investigation into Mr Galloway because his testimony at the May 17, 2005 hearing so clearly conflicted with the evidence. The additional evidence ... clearly demonstrates that the testimony Mr Galloway provided to the sub-committee was false and misleading."
Coleman, Treasonous Blasphemous Lying Viper and his Hassidim puppet masters of mammon

In its initial report the committee accused the former Labour MP of receiving 20m barrels of oil from Saddam Hussein's regime.

Dr Abu-Zayyad is quoted in the report specifically denying she received any money. Asked whether she or her husband had benefited from Iraqi oil sales, she replied to the committee in writing yesterday: "I have never solicited or received from Iraq or anyone else any proceeds of any oil deals, either for myself or for my former husband."

The committee attributes its findings to personal interviews with high-level members of the Hussein regime, anonymous oil traders with personal knowledge of Mr Galloway's involvement and extensive bank records.
By false witness

It claims that a Jordanian businessman and friend of Mr Galloway's, Fawaz Zureikat, channelled the money from the UN oil-for-food programme to the MP's former wife and to the Mariam Appeal.

It also cites testimony from the former Iraqi deputy prime minister Tariq Aziz who has been in jail since the US invasion of Iraq and who allegedly told investigators Mr Galloway had requested oil allocations in the name of Mr Zureikat.

The report also quotes the former Iraqi oil minister Amer Rashid as confirming Mr Galloway was granted oil allocations.

The committee then printed alleged documents that it claimed proved the money transfers were made. A senate aide said the information had been turned over to the US Department of Justice, which potentially had the power to press charges of perjury. The information will also be given to the British authorities.

The Respect MP recently won £150,000 in libel damages after suing the Telegraph over documents published in 2003, in which he was said to have asked for an increased allocation from the oil-for-food programme. The newspaper is currently appealing that ruling.
Talmudic newspaper

_____

Lob those dummy Missiles on the "Lesser jew proles" after all anti-Shema-tism is necessary for their management and to bring in Moshaich ben false-Christ

http://www.israelnationalnews.com/news.php3?id=91771

Kassam Rockets on Sderot During and After the Holiday
17:02 Oct 26, '05 / 23 Tishrei 5766
By Hillel Fendel





| | | |
| --- | --- | --- |
| | | Arab terrorists fired several Kassams at Sderot just prior to the Simchat Torah holiday, and another round late last night. No one was hurt. The IDF responded with massive fire at open areas. |
The Islamic Jihad terrorist organization, making good on its threat to avenge the killing of #1 wanted terrorist Luis Saadi by the IDF earlier this week, fired between three and five Kassam rockets at southern Sderot late Monday afternoon. Top Israeli security sources said the order came from the Jihad's Syrian headquarters. Just a month ago, terrorists fired a barrage of 40 Kassam rockets at Negev areas, wounding some five Israelis.

____
to Sanhedrin 10-25-2005
Hey Dov is this you, or steinsaltz?
3: And I saw one of his heads as it were wounded to death; and his deadly wound was healed: and all the world wondered after the beast.
4: And they worshipped the dragon which gave power unto the beast: and they worshipped the beast, saying, Who is like unto the beast? who is able to make war with him?
and again, Ole Dov clams up
______
Moving right along in Itsrealhell to the road Map to hell, of Sanhedrins plan of their vision of Hoodlum haha and enslavement of All mankind unde their Noahide laws to their dragon they serve
Upon seizing the reins of government, the new Noachide leaders will move quickly to implement a full agenda of reform. ... Full support will be given to Israeli forces to reinvade PLO-controlled areas, with military assistance offered where necessary. Jewish courts ... will be granted full legal sovereignty over Jewish citizens within each country, who will no longer be subject to the authority of gentile courts. The pre-existing Noachide judges and courts will replace the existing court system of each country, and the legal code will be drastically rewritten to conform to halacha.... .... And law and order will be fully restored through the establishment of internal security measures, again in accordance with Torah law. — Committee for Israeli Victory
______

TWELVE DAYS IN JULY
by James D. Tabor
Introduction by Saul Zucker:
B'NAI NOAH LEADERSHIP IN NEW YORK
On the evening of July 3, 1991, on their way to Israel, David Davis, Jack Saunders, and James Tabor met with a group of people interested in the B'nai Noah movement. The meetings began with a light dinner in Brooklyn, bringing together the B'nai Noah with Mr. David Horowitz, a well- known U.N. observer and commentator, Dr. Aaron Lichtenstein, author of the book on the Noahide commandments, The Seven Laws of Noah, Rabbi Saul Zucker, an educator with great interest in the movement, and Mrs. Susan Rosenbluth, a journalist. The festive and congenial mood was an indicator of the way the evening was to proceed.
After browsing at some Jewish book stores, the group proceeded to the home of Dr. Lichtenstein and met Rabbi Harvey Falk, author of Jesus the Pharisee, and Rabbi Berel Haskelevitch, a Russian radio broadcaster, who hosts a program featuring B'nai Noah concepts and developments. The evening's animated discussions focused on David's, Jack's, and James' imminent trip to Israel, the relationship between the Jewish community and the B'nai Noah community, and Biblical and post-Biblical history as it relates to B'nai Noah.
Perhaps the most salient issue to emerge from the meeting from the perspective of this writer was the responsibility that the Jewish community has toward the B'nai Noah movement. The Jewish people's obligation to B'nai Noah stems not necessarily out of the spirit of messianism or mystical motives, but rather out of a genuine concern and love for all of humanity, insofar as they reflect the Creator, and out of a desire to see the fulfillment of His Master Plan for all people.
As in previous New York area meetings, all who attended were greatly impressed with the zeal and commitment of the people in the B'nai Noah and Jewish communities.
The following day, David, Jack, James, and Saul Zucker met with Rabbi Israel Chait, a rosh yeshiva (head of a yeshiva, a place of Torah-learning) in Far Rockaway, to discuss the Israel trip and the November Noahide conference. Rabbi Chait mentioned that the B'nai Noah might wish to investigate Talmudic-type thought and method as they relate to the seven laws, in order to enhance their great appreciation for the beauty and truth of Torah and the Noahide mitzvot (commandments/good deeds). This is an area that could be explored in future discussions.
As the summer comes to a close, the New York area community looks forward to David Davis' late September visit [September 22-25], and to the lively and provocative discussions that it will entail. As the mutual admiration grows, we enthusiastically anticipate a year of excitement and learning!
_________
2 Thes. 2
1: Now we beseech you, brethren, by the coming of our Lord Jesus Christ, and by our gathering together unto him,
2: That ye be not soon shaken in mind, or be troubled, neither by spirit, nor by word, nor by letter as from us, as that the day of Christ is at hand.
3: Let no man deceive you by any means: for that day shall not come, except there come a falling away first, and that man of sin be revealed, the son of perdition;
4: Who opposeth and exalteth himself above all that is called God, or that is worshipped; so that he as God sitteth in the temple of God, shewing himself that he is God
http://www.rainbowcovenant.org/pages/IsraelTrip.htm
TWELVE DAYS IN JULY
by James D. Tabor
July 5th through 16th, Jack Saunders, David Davis, and I spent twelve eventful days together in Israel. Those twelve days turned out to be truly exciting and significant in ways we could not have predicted. Frankly, so much happened in that short time it will be difficult to cover adequately. In this report I will try to touch on the essential facts, but also convey some of the general atmosphere and flavor of our trip.
Our main purpose in making this trip together was to meet with rabbis, Torah scholars, and any interested individuals regarding the growing B'nai Noah movement in the United States. We had various questions we wanted to put to the rabbis, and we knew, thanks to recent international publicity about the movement, that many in Israel wanted to talk with us.
On the evening of July 3rd, as we prepared for our departure, Prof. Aaron Lichtenstein, whom many of you know as author of The Seven Laws of Noah, hosted a meeting for us at his home in Brooklyn.
This is the same Place where the Sofiet Revolution and murder began, with Trotsky and Lenin
It was most enjoyable and productive, allowing us to chat with various interested ones in the New York area before leaving. In attendance were: Prof. Lichtenstein of course; Rabbi Saul Zucker of Frisch School; Rabbi Berl Haskelevich of Lubavitch (who does a weekly broadcast to the USSR regarding B'nai Noah); David Horowitz of United Israel World Union; Susan Rosenbluth, editor of The Jewish Voice; and Rabbi Harvey Falk, author of Jesus the Pharisee. The next morning we met with Aryeh Gallin of Reuters, who also heads the Root and Branch Association. He had just completed his high-quality publication, The Noahide Guide, and gave us copies to distribute in Israel. Aryeh has worked tirelessly on this Guide; he has done a fine job. You can get a copy free by writing Root and Branch, 504 Grand St. # E51, New York, NY 10002. Arey has greatly sacrificed to produce this product (we suggest a donation of $5-$10.) Later that day we had a fruitful meeting with Rabbi Israel Chait, head of Yeshiva B'nei Torah of Far Rockaway, NY. Rabbi Chait is the teacher of Rabbi Zucker. He is an inspiring teacher, a great scholar of Torah.
Talmud Bavli of the dragon worshippers the sons of the synagogue of satan Chabad Lubavitch the Hassidic Pharisees of Sanhedrin
Many of you will hear him speak at the upcoming November Conference at Emmanuel. You are in for an incredible experience. I later heard him teach in Israel and I was spellbound. He was just embarking on a trip to Israel himself, so we made arrangements to meet over there as well.
We flew out of JFK airport on July 4th at 3:10 p.m., excited and wondering what HaShem (the dragon) had in store for us. We basically had little itinerary planned.
Had we known all that was ahead we would not have believed it. On the flight over we enjoyed many hours of conversation, something the three of us had never had a chance to experience together. We had our Bibles out most of the way, discussing various points on our minds. I shared with Jack and David my new article, "Restoring Abrahamic Faith." It was a fine trip, tiring, but quite fruitful.
But not through Jesus
We arrived in Tel Aviv at 8:30 a.m. July 5th, met by my dear Jewish friend John Hully. John drove us to Jerusalem and the three of us rented a car and headed immediately south, straight through the West Bank, for the Negev. We knew the route south from Jerusalem was a bit dangerous, but we wanted to go through Hebron, and at the same time felt we should assert the right of travel anywhere in the Land of Israel. We made it fine until we came to the little village of Dahariya, just north of Beersheva. Suddenly a brick-sized rock came crashing through the car window on the passenger side where Jack was sitting. I was in the back, David was driving. Glass was everywhere, Jack's arm was bleeding. David swung the car around to an Israeli army checkpoint. They bandaged Jack's wounds and we were on our way, a bit shook up, but actually in fair spirits. We had shed blood for the land of Israel! We picked tiny slivers of glass from our scalp and bodies for the next week. We drove on to see the excavation at Beersheva, recently featured in Biblical Archaeology Review magazine. It was inspiring to walk over the Tel and think about the entire area as the home of Abraham and Isaac for so many years. We then headed for the night to Kibbutz Ir Ovot, deep in the Negev. That evening, our first in Israel together, we walked out under the stars in the pitch black of the desert night around midnight. What an experience! We spent the Sabbath with Rabbi Simcha Perlmutter and his congregation. We wanted to find out firsthand his views about Yeshua, his denunciations of Christianity, and his own approach to Torah faith.
Mt:12:31: Wherefore I say unto you, All manner of sin and blasphemy shall be forgiven unto men: but the blasphemy against the Holy Ghost shall not be forgiven unto men.
It was a profitable time. On Sunday, July 7th we spent the entire day in the Qumran area, climbing around the cliffs and poking into the caves. Several times we sat together, perched high on the cliffs overlooking the Jordan valley and the Dead Sea, commenting on the fact that we were gazing at the true "cradle of the Christian movement" long before it became paganized. The roots of the Jesus movement are out there, in that desert, under those stars, in those caves. It was inspiring.
The rest of our time we spent in Jerusalem. We set up our headquarters at the Kings Hotel, right in the heart of the New City. For the next nine days, with a break on the Sabbath, we help constant, nearly non-stop, meetings and interviews with anyone and everyone who was interested. I can only offer some highlights.
On Monday, as our first official act in Jerusalem we went to the Temple Mount together, right at the site of the Dome of the Spirits where we believe the ancient Temples stood. There we stood and read the long and inspiring Prayer of Solomon recorded in 1 Kings 8. We placed special emphasis on verses 41-43, which speak of the "stranger" coming from a far country and praying toward that place.
Jn:4:20: Our fathers worshipped in this mountain; and ye say, that in Jerusalem is the place where men ought to worship.

Jn:4:21: Jesus saith unto her, Woman, believe me, the hour cometh, when ye shall neither in this mountain, nor yet at Jerusalem, worship the Father.
We then read Isaiah 56 and prayed together. Our intent was to formally and decisively declare, by our presence and prayer, that this sacred area is once more a place of Prayer for All Peoples. The Arab guards were quite agitated at our reading and praying. One ran up and demanded to know if we were Jews or Christians. We said neither, we were B'nai Noah.
Rv:3:16: So then because thou art lukewarm, and neither cold nor hot, I will spue thee out of my mouth.
He was quite puzzled, not at all pleased. It is ironic that we would be allowed to tour and take pictures, but praying and reading the Scriptures is forbidden by the Arabs. We felt compelled to do this act, partly as symbol, but partly as a definitive statement of reality. We, the strangers, come from a far land, with a pure faith in HaShem, were actually there!
Rv:14:9: And the third angel followed them, saying with a loud voice, If any man worship the beast and his image, and receive his mark in his forehead, or in his hand,

Rv:14:11: And the smoke of their torment ascendeth up for ever and ever: and they have no rest day nor night, who worship the beast and his image, and whosoever receiveth the mark of his name.
Media coverage, thanks to the help and arrangements of Rabbi Burstin, and the untiring work of Rabbi Yaakov Fogelman, who heads the Torah Outreach Center (TOC) in the Old City, was extensive. Also, Pinchas Wimberly and Yehoshua Friedman assisted us a great deal. Rabbi Burstin had already arranged a cover story in Erev Shabbat, one of the main orthodox papers, which appeared upon our arrival. On Monday (July 8), our first day in Jerusalem we did long interviews with the editors of Your Jerusalem (mainstream) and Yom Shishi (orthodox.)The following day we talked with Haim Shapiro of the Jerusalem Post and later, with an editor from HaTzofah (orthodox). On Wednesday we did an interview over Radio Alef with Yaakov Fogelman. On Thursday we met with the editor of the Jerusalem Report, the main weekly newsmagazine in Israel. The following Monday we did another radio interview with Steve Rodan, which went international over Kol Yisrael.
On Sunday, July 14th, we spoke in the morning at the Israel Center in the Old City, headed by Rabbi David Aaron. That afternoon we gave a joint public lecture sponsored by Rabbi Fogelman's TOC organization, right next to the Great Synagogue on King George Street. Rabbi Fogelman and his TOC organization will represent our group in Israel. They will receive several hundred issues of our periodical, The Gap.
of the abyss
They will pass them out throughout Jerusalem to visiting tourist. We enjoyed having Sabbath lunch with Rabbi Fogelman and family. At both lectures the rooms were packed. Videos of the lectures are available.
Several of the news stories appeared while we were still in Israel. These reports, which were wholly positive, along with the public lectures, the radio interviews, and word-of-mouth discussions, resulted in an extraordinary interest in our visit. We simply could not meet with all the people who began to call for appointments. I think I spent at least 1/4 of my time answering phone messages!
We decided to make ourselves available each evening in the Kings Hotel lobby from about 7 p.m. until 11 p.m. or later. These informal sessions with any and all who came by were some of the best times we had. We spoke with well over 50 people at these sessions, among whom were: Rabbi Bindman, Rabbi Riedler, Prof. Rosenburg of Hebrew University, Akiva Bernstein, Yehoshua Friedman (who helped as our translator), Michael Skobac, Isaac Mozeson, Pinchas Wimberly, Rabbi Yaakov Fogelman, Akiva Garber, Moshe Rosenshine, Rabbi Chait, Dr. Steven Harvey, and Richard Kantor, a Jewish native of Tennessee now living in Shiloh. There was a gentleman present in the hotel who kept watching and listening to our meetings, as many were doing. He came over and introduced himself, Rabbi Aryeh Gotlieb from New Jersey. This turned out to be a good meeting. J. David Davis will be speaking to his group on Wednesday September 25, 1991. These sessions were free-ranging, candid, and fascinating. We covered everything from B'nai Noah, to the paganization of world Christianity, Yeshua, and the New Testament.
One of the highlights of our visit was a formal meeting, arranged by Rabbi Burstin, with the Sephardic Chief Rabbi of Israel, Mordechai Eliyahu. We met with him for over an hour on Thursday morning, July 11th. The meeting was extremely warm and productive. We gave him our greetings, reported on the positive aspects of the work of the B'nai Noah movement in the United States, and discussed with him the progress of work on prayers and halachic (Torah observant) matters.
Upon seizing the reins of government, the new Noachide leaders will move quickly to implement a full agenda of reform. ... Full support will be given to Israeli forces to reinvade PLO-controlled areas, with military assistance offered where necessary. Jewish courts ... will be granted full legal sovereignty over Jewish citizens within each country, who will no longer be subject to the authority of gentile courts. The pre-existing Noachide judges and courts will replace the existing court system of each country, and the legal code will be drastically rewritten to conform to halacha.... .... And law and order will be fully restored through the establishment of internal security measures, again in accordance with Torah law. — Committee for Israeli Victory
Rabbi Eliyahu gave us his warmest blessing, repeating it three times. He encouraged us to meet with Rabbi Yoel Schwartz (Sanhedrin Head of Noahide Courts in US) and Rabbi Burstin to work out further details regarding ways in which his office could help the movement. There was a professional photographer present and we all posed with the Chief Rabbi for formal photos.
Mt:23:5: But all their works they do for to be seen of men: they make broad their phylacteries, and enlarge the borders of their garments,
On the previous Tuesday, July 9th, we had been guests in the home of Rabbi Burstin and discussed all aspects of B'nai Noah, both problems and possibilities, until after 3 a.m. in the morning. These are normal hours for the Rabbi!
in the darkness
We were able to get clarification on all important matters and prepare for our meeting with the Chief Rabbi later that week. Then on the following Sunday evening, July 14th, we had a very productive working session with Rabbi Yoel Schwartz, Rabbi Burstin, Rabbi Bindman, Rabbi Riedler and Pinchas Wimberly in the home of Rabbi Schwartz. Here we were able to iron out most problems regarding the emerging halachic document being prepared by Rabbi Schwartz as well as the Prayer Book. Rabbi Bindman, with whom we met on three other occasions, is working with Rabbi Schwartz under the direction of the Chief Rabbi, to compose prayers for B'nai Noah. We will publish the results of this emerging "Siddur" with the official approval of the Chief Rabbi, in time for the November Emmanuel conference. I think all of you will be quite pleased with the quality of Rabbi Bindman's work.
The other great highlight of our trip came completely as a surprise to us all. I had wanted to go by the Temple Institute, located in the Old City, just to give Rabbi Yisrael Ariel our greetings. As many of you know, Rabbi Ariel is in charge of all the technical research and production of implements for the Third Temple. He is a devout man and a truly great scholar. We talked first with his assistant Rabbi Chaim Richman. We were caught completely off guard by the warm and special reception both Chaim Richman and Rabbi Ariel gave us. Both of them told us, in the most moving and personal tones, that they had been expecting us someday, that all the prophets foretold a time when Gentiles, who had turned from idolatry and to faith in HaShem would come to Jerusalem and approach them.
the prophets of Baa'l unto hashemiteborg of the dragon of Talmud Bavli
They told us of their frustrations and reservations about the extraordinary evangelical Christian interest in their work on rebuilding the Temple. We agreed with them that most of this interest had nothing really to do with love of the Temple of HaShem,
third temple of Doom and Abominations
but rather in fulfilling a certain Christian eschatology scenario. We arranged two subsequent meetings with these men to discuss these matters in further detail. The results were astounding to us. Rabbi Ariel asked us if we would be willing to become the official representatives of the Temple Institute to the non-Jewish world. The resulting document is published in this issue of The Gap. Significantly, it was signed on Tisha B'Av, as we were fasting for the destruction of the Temple. This is not something we sought out, but we came to understand how and why Rabbi Ariel viewed our movement as definitely prophetic.
yep....the fallen away
We are the small beginnings of a turn of multitudes of Gentiles to Torah faith.
worship the beast
It is entirely appropriate that B'nai Noah, not the evangelical Christian Church, become partners with Israel in working for the hope of the Third Temple. We share their faith without reservation; we have no hidden eschatological agenda, so we can be true and sincere partners together. On Monday, July 15th, we were guests in the home of Gershon Salomon, head and founder of the Temple Mount Faithful. This is the group who has tried to lay the cornerstone of the Third Temple the past two years during Succoth. Again, we were amazed at the movingly warm reception Gershon gave us. He too said his Torah teacher had told him years ago that someday Gentiles, B'nai Noah, would come to Israel and express interest in the Temple. Gershon is a modern day Zealot. No matter what one thinks of his overt methods, his faith in HaShem (Dragon) is strong. Both he and Rabbi Ariel were at the Western Wall as soldiers with former Chief Rabbi Shlomo Goren on that fateful day, June 7, 1967, when Jerusalem was once more returned to Jewish hands after 2300 years to the day (from June 7, 334 BCE). That experience fired both of them with visions for the Third Temple. They pursue different methods, but essentially are one in their hope to see the Prophetic words fulfilled.
Moshiach ben false God
2Thes. 2:4: Who opposeth and exalteth himself above all that is called God, or that is worshipped; so that he as God sitteth in the temple of God, shewing himself that he is God.
Other highlights of our trip were important and productive private meetings with leading Torah scholars. On Friday, July 12, we had a very helpful meeting with Rabbi Brovender and his colleague Rabbi Ebner. They work, along with Rabbi Riskin (who writes the weekly Jerusalem Post article), at the Yeshiva (dragon school of hassidim) in Efrat. On Monday, July 15th, we, along with Rabbi Chait and his wife, had a most enjoyable meeting in the home of Rabbi Nathan Cardozo. Rabbi Cardozo is most respected in Israel and shared his vision of B'nai Noah with us.
Dan:11:14: And in those times there shall many stand up against the king of the south: also the robbers of thy people shall exalt themselves to establish the vision; but they shall fall.
Having Rabbi Chait there too was most helpful. We felt privileged to listen to these two great scholars carry on dialogue in our presence. On Tuesday, July 16th, we met with Prof. Nahum Rakover of Hebrew University and with the Justice Department of the State of Israel. He is one of the world's experts on application of the Noahide Laws
http://thomas.loc.gov/cgi-bin/bdquery
1. H.J.RES.104 : To designate March 26, 1991, as "Education Day, U.S.A.".
Sponsor: Rep Michel, Robert H. [IL-18] (introduced 1/31/1991) Cosponsors (225)
Committees: House Post Office and Civil Service
Latest Major Action: 3/20/1991 Became Public Law No: 102-14.
to questions of international law. This was a very important and productive meeting for us. You will be reading about Prof. Rakover's work in future issues of The Gap. I subsequently had dinner on Erev Shabbat in Prof. Rakover's home, after Jack (Dial) and David had returned to the States. He is truly a man of faith and learning, of the highest standards.
David and Jack left Israel on July 17th. I remained another ten days. I continued various meetings. I had two very productive meetings with Prof. Mordechai Nisan, of Hebrew University. He gave me a book of his in which he has written extensively on the importance of B'nai Noah. He arranged for me to meet Rabbi Leon Askenazi, a leading authority on B'nai Noah in France. I had seen Rabbi Askenazi quoted in Newsweek magazine earlier in the year. I also spoke with Tzvi Marx of the Hartman Institute. I was able also to speak briefly with Rabbi Nahum Kahane, Meir Kahane's brother. I had a productive discussion with Joshua Jacobovits, who works closely with Rabbi Schwartz. On the morning of Tisha B'Av I met with Ambassador Pinhas Eliav of the Ministry of Religious Affairs. We had a most productive meeting and I have hopes that B'nai Noah will receive recognition as an official movement in Israel. If so, this might even work toward immigration, citizenship, and the formal status of the Ger ToShav.
Shabbos Goyim satan worshipping proselytes of the Talmudic jews non god
Mt:23:15: Woe unto you, scribes and Pharisees, hypocrites! for ye compass sea and land to make one proselyte, and when he is made, ye make him twofold more the child of hell than yourselves.

The personal highlight of my trip was the precious hour I spent with Rabbi Aden Steinsaltz (Nasi) on Wednesday, July 24th, one day before I left the country. As many of you know, Rabbi Steinsaltz is engaged in his mammoth Talmud translation projects, most lately into English. Some of you have his volumes. He has written dozens of important books. Even as I spoke with him, soaking up his warmth and wise words regarding B'nai Noah, I was humbled to have this time with such a busy and great man.
There is much more I could tell. There are names I have not had the space to mention and elaborate. I spent the entire evening and day of Tisha B'Av at the Wall, fasting with my Jewish brethren. In the afternoon I marched with Rabbi Ariel's group to pray at the Lion's Gate and the Southern Double Gate, leading up to the Temple Mount. The spiritual feeling there was overwhelming.
devil possession
Israel is longing for the Redemption.
but without the "REDEEMER" Jesus the Only Christ
I must say I was overwhelmed at the totally positive response we received from all parties, the great and the small, whom we encountered in Israel. We left with a great understanding that truly this turn of the Gentiles from idols to the living God is an idea whose time has come.
Rv:13:8: And all that dwell upon the earth shall worship him, whose names are not written in the book of life of the Lamb slain from the foundation of the world.
And we are part of that. It is inspiring. And what is most encouraging is that our Jewish brethren in the One Faith share with us so openly and freely. Truly this has not been the case for at least two thousand years. We are truly living in historic, and let us pray, in Messianic, times.
Jack E. Saunders, Dr. James Tabor, J. David Davis, Rabbi Menachem Burstin, an assistant to the Chief Rabbi, and far right Rabbi Yehoshua Friedman, and in the center Chief Rabbi Mordechai Eliyahu.
_____
Apostate 'Amaraka" the Treasonous Murderers, the Blasphemous Bushitler admen-struation of blood has sold you out to the RED SOFIET Talmudic beast Sanhedrin unto the dragon and you are totally oblivious, and have already accepted the beast.
http://nord.twu.net/acl/talmudiclaw.html
Talmudic Law
by Niki Raapana, updated & revised 7/24/05

Why the ACL includes Talmudic Law in its research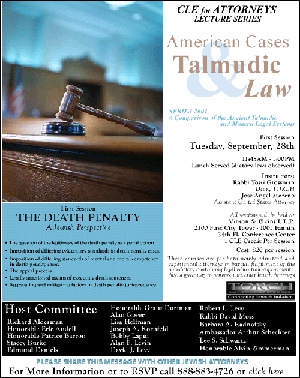 The ACL studies Talmudic Law because 1. communitarian law has roots in ancient Eqyptian Judaic communities (called communitarian-ra), 2. our government has embraced the politics of Militant Zionism, and 3. President Bush and three members of the United States Supreme Court now openly support balancing the Constitution of the United States against "Judaic Law." See: US v. Talmud Law, The Seven Universal Laws also referred to as the Noahide Laws (for Gentiles) and United States Congressional support: H.J.Res.104.

Chavez urges leaders to consider moving U.N. to Jerusalem UNITED NATIONS (AP) 9-16-2005 — "Venezuelan President Hugo Chavez denounced the U.S.-led war in Iraq on Thursday and told world leaders they should consider moving the U.N. headquarters out of the United States because of it."

"In other words, prayer rugs can be purchased with federal funds to accommodate suspected Muslim terrorists in Guantanamo Bay, and Jewish chapels can be built with federal monies, but Christian kids can't sing 'Silent Night' in the classroom. Got it everyone?" JEWISH CHAPEL BUILT WITH FEDERAL FUNDS: NO OUTCRY FROM ADL, ACLU or AU, Catholic League president William Donohue, September 15, 2005.

Rabbi Adin Even-Israel Steinsaltz Elected to Head Sanhedrin 14:51 Jun 23, '05 / 16 Sivan 5765, By Ezra HaLevi, Israeli National News. "Also present at the meeting on Monday, though not seated in the 71-seat semi-circular row of chairs, was famed archaeologist Dr. Vendyl Jones. He is working with the Sanhedrin to establish a system of courts for non-Jews adhering to the Seven Laws of Noah, which the Torah obligates all of humanity to follow. One of those laws is to establish courts of justice. A high court has been established by the Sanhedrin for such purposes, and a subsidiary of that court will soon be established in the United States as well." [emphasis added]

Which Law?...What Law? By W. B. Howard...Editor of Despatch

What is the Talmud?

Torah 101 explains: "In addition to the written scriptures we have an "Oral Torah", a tradition explaining what the Five Books of Moses mean and how to interpret them and apply the Laws. Orthodox Jews believe God taught the Oral Torah to Moses, and he taught it to others, and others taught it to others down to the present day. This tradition was maintained in oral form only until about the 2d century C.E., when much of the oral law was compiled and written down in a document called the Mishnah. "Over the next few centuries, authoritative commentaries elaborating on the Mishnah and recording the rest of the oral law were written down in Israel and Babylon. These additional commentaries are known as the Tosefta, Mekhileta, Sifra, Sifre, Jerusalem Talmud, and Babylonian Talmud. The last was completed at about 500 C.E. "The two largest works are the Jerusalem Talmud and the Babylonian Talmud. The Babylonian one is more comprehensive, and is the one most people mean when they refer to The Talmud. The Mishnah is divided into six sections called sedarim (in English, orders). Each seder contains one or more divisions called masekhtot (in English, tractates). There are 63 masekhtot in the Mishnah. Most, though not all, of these masekhtot have been addressed in the Talmud. Although these divisions seem to indicate subject matter, it is important to note that the Mishnah and the Talmud tend to engage in quite a bit of free-association, thus widely diverse subjects may be discussed in a seder or masekhtah..."

About the Judaic Texts, Yale College Library Catalog lists 3 texts: The Talmud, The Torah (Tanakh), and The Zohar (Cabala). Yale has a link to Codes of Jewish Law.

Dictionary of Metaphysical Healthcare Unnaturalistic Methods: J-K © 1997 Jack Raso, M.S., R.D. defines "Jewish meditation (Jewish mysticism, the Kabbalistic System of Insight): Judaic "approach to personal growth" promoted by Chabad Lubavitch of Long Island, New York. The cabala (cabbala, cabbalah, kabala, kabbala, kabbalah, kabbalism, Qabalah, Qabbalah) is an eclectic and multiform mystical system of ancient Jewish origin analogous to yoga. It encompasses "angelology," demonology, meditation, and prayer. Answers.com has definitions of kabbalah from several sources.

What is The Judaic Law Institute?

"What does the Talmud have to say about legal and moral controversies in modern America?" Noson Gurary, a Lubavitch rabbi who came up with the idea and won backing from some top Jewish legal experts, explains:



"Before you know where you're going, you have to know where you came from. And Jewish law is the basis of our legal
system in America."



The National Institute for Judaic Law was announced as a way to promote the applications of its teachings into U.S. courtrooms, reported By Janine Zacharia in The Jerusalem Post, Nov. 9, 2002:



"The launch of the Washington-based National Institute for Judaic Law was marked Tuesday night with a kosher dinner at the Supreme Court attended by 200 people, including three Supreme Court Justices - Ruth Bader Ginsberg, Stephen Breyer, and Antonin Scalia.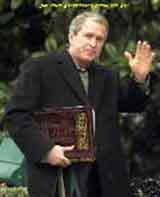 US President George W. Bush sent greetings and applauded the institute for promoting an "understanding of Judaism's rich tradition of legal thought."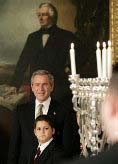 "As we face new challenges and welcome new opportunities, our society must continue to promote good character and strong values. Through the study and teaching of Jewish law and philosophy you are contributing to a growing culture of service, citizenship, and responsibility in America," Bush wrote."


Protect My Children from the Ten Commandments by Lewis Vaughn, Free Inquiry magazine, Volume 19, Number 4.

Education Day USA by Lubomyr Prytulak.

Shmais News Service-Keeping Lubavichers Informed has a lot of nice pictures... including pictures of President Bush waving to reporters on his way to his new Daf Yom Shiur (carrying his copy of the Talmud), and pictures of Menorah ceremonies in the White House and the California State Capitol with Govenor Arnold Schwarzenegger.

Yu Torah online.

Example of how the Torah-Talmud can be interpreted:



"A clear halacha (religious rule) stated in the Mishneh Torah of the Rambam (Jewish sage Maimonides) explicitly forbids gentiles, like Jews, from celebrating any religious holidays not found in Torah or rabbinical tradition. The rule further requires all Jews to be involved in teaching gentiles this rule, which applies to such Christian holidays as Christmas, Easter, and Halloween.

"The Lubavitcher Rebbe has publicly taught this and related halachic rules, and has made it clear that, since there are no opinions in Torah to contradict them, such rules apply to us today. The Rebbe has further instructed Jews that whenever we see a project or campaign that must be done, or any action that is needed, we must not ask permission from any authority - be it a Chabad representative, a beis din (Jewish court), a Rav (rabbinical judge), or whomever - but rather we must take immediate action on our own initiative (see, for example, the Rebbe's Yiddish-language speech published in Likkutei Sichos, vol. 2, Parshas Pinchas, pp. 342-344; also sichos of motzoei Shabbos Chayei Sarah, 24 MarCheshvan 5738, and 10 Shvat, 5738).

"In accordance with these guidelines, members of JAHG-USA wrote a flier promoting our campaign to abolish Christmas celebration; it was aimed at recruiting Jewish support and featured key quotations from Maimonides, the Rebbe, and other sources. In November 2001, two volunteers posted this flier in a major Chabad synagogue in Los Angeles; when some members of the congregation repeatedly tore down the fliers with the holy Torah quotations, the volunteers instead distributed the fliers throughout the neighborhood to Jewish homes." quote from http://www.noahide.com/cunin.htm



---

Talmudic Law is the legal basis for Communitarianism

Amitai Etzioni is the founder of the Communitarian Network. The Everything Expert: A Review of Amitai Etzioni's My Brother's Keeper by Robert Boynton in The Nation, July 14, 2003 tells us "his adopted name was created by fusing the Hebrew words "truth" (emet), "tree" (etz) and "Israel" (Zion)-". (The Kaballah is a "truth tree".)



"Lacking a high school diploma, Etzioni had difficulty finding a university that would admit him after the war. Luckily, Martin Buber was looking for students to attend his new institute. In addition to studying Kabbalah with Gershon Scholem, Etzioni worked with Buber himself, and was profoundly influenced by the philosopher's notion of "dialogue" ("a give-and-take during which people open up and reach each other profoundly"), as well as his famous distinction between "I-Thou" relationships (treating others as fellow human beings) and "I-It" relationships (treating others as objects). Later, while studying sociology at Hebrew University, Etzioni discovered the concept of "anomie," the condition of spiritual aimlessness that Durkheim argued was the result of modernity's loss of social fabric. The essential concepts of communitarianism were in place." (Boynton 2003).



[This is amazing considering what's happened to Judge Moore who refused to follow a court ruling that decided he must remove a monument of the Ten Commandments in the Alabama state Supreme courthouse. In our layman's opinion, we think the Torah and the Biblical Old Testament are what most Christians understand to be Judaic law. Others tell us Judaism is not a religion, it is law religionized. The Talmud is the controversy, even though Judaic-Talmudic law includes several books that include the Old Testament-Torah. Not only was the Old Testament "word of God" modified and edited by scholars throughout the centuries, portions of the Talmud were never written down, they contained secrets passed orally only to elite initiates (much like Freemasonry). As with the Christians and the many very different denominations that represent it, the Torah-Talmud is also an area of contention among the varieties of Jewish people. The key factor to Talmudic law is that it is not fixed law, it is constantly challenged and rewritten, according to case law precepts. And, unlike the Christian arguments, anyone who objects to the overall authority of Talmudic law, or even portions of it, is labeled anti-Semitic (even the Jews). Many American Jews do not even identify with Judaism. It's also important to know most Jews did not orignially support Zionism. Today, opposition to political Zionism and/or the religious Talmudic laws are condemmed as a racist attitiude toward Jewish people and are subject to criminal prosecution in a growing number of countries. ]

Liberty Councel-Defend the Ten Commandments

Is American Law Based on the Ten Commandments? by Chad S. Inman at The Secular Web.

WHAT FAMOUS STATESMEN HAVE SAID: The Ten Commandments

Kentucky Pagans on the Ten Commandments

The Ten Commandments Go to Trial at American Vision

ALLEGHENY COUNTY v. GREATER PITTSBURGH ACLU, 492 U.S. 573 (1989) at FindLaw.

Forum at The Record, Independent Weekly Newspaper at Harvard Law School, posted 4/29/05:



"While we have had complete silence and acquiecence on the part of the ACLU concerning the establishment of the "Noahide Laws" as our official state religion, we hear them talk loudly against the posting of the Ten Commandments in a courthouse as a part of a display about the foundation of our legal system. According to the ACLU, the displaying of the Ten Commandments in a public courthouse, even in the context of their being among many documents that represent the development of the legal system of our Federal Goverhment, makes the statement that a specific religion is seen as a part of the foundation of our western civilization. Because of this, the display is promoting this religion, which is a violation of our First Amendment, and so is unacceptable."

This following statement was found on the ACLU website:

"The Ten Commandments advocate believing in God, observing the Sabbath and not worshipping idols," Friedman added, noting that different faiths have different versions of the document. "Those are religious beliefs that should be left to each individual. Especially in a courthouse, people should not be made to feel like outsiders in their own community because they may not share the prevailing religious view."

..."I would like to know why the ACLU, our press, and our politicians have remained silent for fourteen years about the passage of Public Bill 102-14, and this obvious violation of our First Amendment guarantee of our right to worship God as we choose and the guarantee that our government will not establish a state religion, while at the same time the ACLU attacks legitimate public expressions and displays of religious-oriented material, such as the Ten Commandments in a courthouse, and Nativity scenes at Christmas. "



What does the ACLU stand for? Madeline Kochen named director of new public interest law programs, Stanford University News Service 09/08/94.



"Public interest law includes legal aid to the poor, government service, and work for nonprofit organizations like those concerned with civil rights, the environment, children or the elderly... As a Yeshiva undergraduate, she majored in Judaic Studies, won a Judaic Studies Award, and served as Jewish Law Editor of the student newspaper. She received her bachelor's degree in January 1978 magna cum laude./ Kochen speaks Hebrew fluently. Before law school she pursued in-depth study of Talmudic law in Israel, and later worked as a law student intern for a lawyer in Tel Aviv."



bio of Steven Keith Green.

March 2, 2005 -- Supreme Court weighs Commandments cases 76 percent of Americans support such displays, according to poll, MSNBC News, AP report.


---

How the American and International Jewish leaders deal with critisism of the Talmud/Zionism

The Awareness Center is The Jewish Coalition Against Sexual Abuse/Assault (JCASA), the Case of Rabbi Yona Metzger. Chief Rabbi of Israel Yona Metzger's Prayer for Jonathan Pollard Justice4JP Release September 28, 2004. All Chief Rabbis' Unprecedented Appeal for Pollard April 20, 2005. (Rabbi Metzger's letter to President Bush appealing for a convicted Israeli spy's release.)

ADL Director Abraham Foxman is reported by the JTA to claim on November 11, 2003 that anti-Semitism is today hidden "under the guise of Anti-Zionism."

Sharon Says Anti-Semitism Drives Israel's Critics Thu November 13, 2003, JERUSALEM (Reuters) -"Sharon's remarks followed a recent European Union poll that found that a majority of EU citizens see Israel as the greatest threat to world peace. The survey caused an uproar in Israel."

ADL Says Extremists Use The Talmud to Promote Anti-Semitism Anti Defamation League Press Release.

Canadian Jewish Congress files a complaint against a Ukrainian web-host under the Human Rights Act.

The 34th Zionist Conference calls for coordinating the fight against anti-Zionism. YellowTimes.org claims one of the 2002 Resolutions was to ciminalize anti-Zionism.

Bnai Brith calls anti-Zionism a form of anti-Semitism.


---

The Talmud as a dialectic, a Game Theory, and Freemasonry

AN OUTLINE OF THE HISTORY OF GAME THEORY, by Paul Walker, 1 April 1995. The Talmud is the first historical reference in the timeline for the Game Theory, going back to 0-500 AD. "In 1985, it was recognised that the Talmud anticipates the modern theory of cooperative games. Each solution corresponds to the nucleolus of an appropriately defined game."

The Talmud, by Tony Smith. "Rabbi Adin Steinsaltz has written a multivolume work, The Talmud: The Steinsaltz Edition (Random House), which includes a A Reference Guide, in which he says:

"... The ultimate purpose of the Talmud is ... to seek out truth. ... The Talmudic dialectic can be compared to an inquiry in pure science, particularly in the sphere ... of mathematics. ...".

R.W.Bro. LEON ZELDIS MASONIC QUALIFICATIONS Craft Masonry. Initiated in "América" Lodge N° 86, Santiago, Chile (1959). Moved to Israel in 1962. Founder of "La Fraternidad: Lodge N° 62 of Tel Aviv (1970), first Spanish-speaking lodge in Israel, working in the AASR. Elected to various offices in the Grand Lodge of the State of Israel, until receiving the title of Honorary Assistant Grand Master (1995).


---

Controverisal Sites that talk about the Talmud

Come and Hear by Carol A. Valentine is a thorough examination of the Talmud. We found this on Jackie Patru's Sweet Liberty website.

THE TRUTH ABOUT THE TALMUD A Documented Exposé of Jewish racist Hate Literature by Michael A. Hoffman II and Alan R. Critchley, 1999, on Radio Islam. (This site no longer exists- 2-18-04. Update 3/2/05, this address is back up with a new format.)

What's Jewish About Justice? Remarks Presented by Rabbi David Rosenn,Executive Director of AVODAH: The Jewish Service Corps,At the 2000 Hillel B'nai B'rith Spitzer Forum on Public Policy.


---

Jewish Law

The Israel Matz Institute for Research in Jewish Law, Faculty of Law Hebrew University of Jerusalem Mount Scopus, Jerusalem, Israel

Jewish Law, Mega.Law.com, Lawyers Window to the Web. Many great links posted here, including Babylonian Talmud Codes of Law.

REGULATIONS CONCERNING THE PUBLIC AND THE INDIVIDUAL IN THE TALMUD (In Hebrew), by Shalom Albeck in Jewish Political Studies Review Abstracts,Volume 10, Numbers 3-4 (Fall 5759/1998).

Jewish Law, Examining Halacha, Jewish Issues and Secular Law, Founder & Publisher: Ira Kasdan, Editor: Daniel Pollack


---

Jewish Mysticism

Madonna opens Hotel Kabbalah By David Sanderson and Luke David, Evening Standard, 9 June 2005. (Warnings about the Kaballah Center by Josh Simon. "What is Kabbalah? Simply, it is a way for individuals to connect with God by being like God. Imitation is much more than flattery-it is the ticket to immortality. Kabbalah posits that the spark that is the human soul can be elevated until it merges back into the endless, eternal light that we call God.")

For those unfamiliar with Christianity, several denominations are taught occult studies in mysticism and magic contain elements of evil. While many of our Founders were Christians, and U.S. "natural" rights were based in God's law, the U.S. Bill of Rights allowed for no established state religion. (The Faith-Based Initiative is another area where the reinvented government balanced this former barrier.) Christians are taught seeking information or visitations from spirits is like calling on the Devil, even though both Testaments are filled with prophecies and visions that must be believed to have come directly from God or His angels. Many old world Christian practices were intermixed with superstition and ritual, and today there are a growing number of Christians who tolerate and/or practice certain aspects of occultism. This is a major issue with all of the devout, and we plan to address the Competing Religions dialectics soon (and we will explore the Muslim perspective). For us the religious aspect is the most complex arena because it has so many variables. The Christian-Mormon faith was basically channelled, and many Christians today see no harm in believing in animal medicine, astrology, tarot, psychics, yoga, the channelled Saint Germain (I am) or the channelled Course in Miracles. Marrianne Williamson, Course in Miracles teacher and author of "Return to Love," was a regular guest on Ophra for years, (and until I realized she is a comunitarian I was basically one of her "followers.") The rise of "white witchcraft," feminism, paganism and ancient eastern religions in the formerly predominantly Christian United Sates continues to be a major influence on U.S. politics. Today, things have changed so much that all forms of mysticism are considered trendy and chic, and the Kabbalah is becoming popular with a "mysticism movement" led by American pop stars Madonna and Britney Spears. For a deep and unsettling critique of modern Christianity and the various denominations and their contribution to the Talmudic dialectic, read Jewish Persecution; Chapter 6 by Jackie Patru.

Florida Holocaust Museum's history wing explains the complexity and confusion over Jewish texts.

Judaism 101; Kabbalah and Jewish Mysticism, Level: Advanced. An online encylopedia of Judaism, by Tracy Rich. "The Talmud contains vague hints of a mystical school of thought that was taught only to the most advanced students and was not committed to writing. There are several references in ancient sources to ma'aseh bereishit (the work of creation) and ma'aseh merkavah (the work of the chariot [of Ezekiel's vision]), the two primary subjects of mystical thought at the time." Halakhah: Jewish Law; a separate course offering at this site.

Religious Studies 463: Jewish Mysticism, University of Calgary.

Mysticism during the Talmudic Era: Sources,University of Calgary.

The Judaica Bibliography, Prepared by: Mark A. Christian, Divinity Library, Vanderbilt University, January 2001

The Talmud by Caroline Myss,Ph.D. Dr. Myss presents a nice, short overview of the Talmud here.

Mystic Doctrines in Talmudic Times, Wikipedia, the Free Encyclopedia.

Jewish Classes offered by Chabad House- Jewish Student Center.

A glimpse of the discussions:TALMUD, JEWISH MYSTICISM, CONTEMPORARY HALACHIK ISSUES presented by Singapore Jewish Welfare Board.


---

Sites and articles on Laws, Judaism and Communitarianism:

Jewish Groups at the Time of Jesus, by Prof. Felix Just, S.J. - Loyola Marymount University.

RENEWING THE COVENANT: A THEOLOGY FOR THE POSTMODERN JEW. By EUGENE BOROWITZ. Jewish Publication Society. 319 pp. $24.95. EUGENE BOROWITZ, the leading theologian associated with the Reform movement of American Judaism, has written an important and ambitious book. Renewing the Covenant: A Theology for the Postmodern Jew is the culmination of Borowitz's long theological journey out of religious liberalism by way of existentialist personalism...

Jimmy Winoker, who gives Presentations on Property, Real Estate and Miscellaneous Related Topics Generally

Rights, Responsibilities and Communitarianism, by Kelly L Ross, Ph.D.

The Dead Sea Scrolls, with Rachel Kohn.

Rv:3:10: Because thou hast kept the word of my patience, I also will keep thee from the hour of temptation, which shall come upon all the world, to try them that dwell upon the earth.


______

http://www.bestandworst.com/pages/vote/vote-16864.html

I have the Steinsaltz Edition of the Talmud, tractate Sanhedrin, and it is there that I find the punishment for violation of the Noahide "laws," namely decapitation. Now, the only positive side I can see to that is found in Revelation 20:4 of the Christian New Testament: "And I saw the souls of them that were beheaded for the witness of Jesus, and for the word of God, and which had not worshipped the beast, neither his image, neither had received his mark upon their foreheads, or in their hands; and they lived and reigned with Christ a thousand years."

______

The serpents Den of the Chabad Lubavitch of the Covenant with death and hell

http://www.chjcc.org/organizations.html

H O A S C A N I M
The Hebrew Orthodox Activists for Societal and Cultural Advancement through National and International Media
(718) 778-4793
Director: Rabbi Dov Ber Haskelevitch

H O A S C A N I M is dedicated to disseminating Jewish knowledge and culture among Russian speaking Jews, and the basics of religious morality ( the Noahide Laws) among Russian speaking non-Jews by means of publications, radio, TV and other Media.

Activities are focused on residents of the former USSR, through our offices in the State of New York and and in Kiev, Ukraine. These include:

Radio Free Europe-Radio Liberty - Production of "The Rabbi's Talk," a popular weekly Radio show on Judaism and the Seven Noahide Laws in Russian, one of its objectives is to dispel anti-Semitism. Today, Rabbi Haskelevitch's radio program reaches 50 to 60 million listeners across the former Soviet Union and in other parts of Eastern Europe as well.
Anti-Missionary activity
Books and Publications
Noviy Svet ("New World") Publishing publishes classical works of Judaism in a new Russian translation. Some of the most popular:

The Disputation of Nachmanides.
The Complete Story of the Exodus and The Passover Haggadah with a new Russian translation and a selected commentary (in Russian)
Megillath Esther with a new Russian translation.
The Story of Purim and the essence of the Jewish Nation.
Introduction to Talmud Study (in Russian). An indispensable guide for every student of the Talmud. Discussions of the essence of the Talmud (by Adin Steinsaltz),
Laws of the Talmud Study (by Rabbi Shneur Zalman of Liady)
Aramaic Dictionary and Grammar (by Arye Kaplan)
The Structure and Rules of Talmud Study (by Rabbi Shmuel Hanagid
Biblical Antiquities, part 1. A book about the Biblical Monotheistic doctrine and its effect on the history of mankind.
Biblical Antiquities, part 2. The Noahide Law in Biblical and Oral Tradition and How the Noahide Law of Judaism became the invisible foundation of all world religions.
The Noahide Law as the World Religion of the future.

MYSTERY BABYLON

Philosophical Essays of Hasidic Masters. A collections of essays of the leaders of HaBaD school of thought (in a popular Russian rendition withannotations).
The Introduction to the Mishna by RaMBaM (Maimonides) in Russian translation.
The Traditional Jewish View of Christianity. Writings of the authorities of Jewish Law and Disputations Medieval Rabbis with the Church.
The Complete Story of the Exodus
The Megillath Esther (a description)
Noviy Svet Magazine
In the World of Miracles (a holiday publication)
The Bukharian Haggadah
The Cuisine and Lifestyles of the Bukharian Jews
In Search of Truth (Mosheyev)
My First Siddur (1st Edition 65,000), a Description
International Gittin arranged
Seminars as well as conducting lectures to the many Russian-speaking groups , both in the former USSR and the United States which have recently formed to keep and learn more about the Seven Noahide Laws. Its objectives are to spread the teachings of Torah among the Jews, to educate gentiles on the Seven Noahide Laws, and to dispel anti-Semitic myths.
International Festivals of Jewish Music and Art (Russia, 1992) (Israel, 1996)
Amaraka sold out to the RED Sofiet Beast
_______
http://www.cephas-library.com/nwo/nwo_public_law_102_14.html
Rabbi Adin Steinsaltz
At The George Washington University
June 1995
Educating Our Youth
Education is not merely the transfer of information and skills, but more importantly, the communication of values and character traits which parents and grandparents have learned through their studies and life experience.
Ideally, morality and ethics, learning right from wrong, are taught at home. Unfortunately, many parents today do not or cannot provide such an education, so the responsibility falls on the shoulders of the public school system.
American families share a core of beliefs. This country was born on the foundation of what we print on our dollar bills: "In G-d We Trust." As in the business world, where assets are given to another to be held in trust, we Americans are confident that every detail of our lives can be safely entrusted to G-d. The G-d in Whom we trust commanded us in the Bible to respect parents, and He warned us against robbery, murder, and even covetousness. The educational system of our great nation was founded on these principles.
their god MAMMON the beast unto the dragon
Twenty Years
For twenty years (since 1978), Congress and each President have designated the day which is four days before the Jewish holiday of Passover as "Education Day, U.S.A." They have called upon us to renew our national commitment to education that embraces the moral and ethical values which are the cornerstone of civilized society.
Passover and Education
The holiday dinner on the night of Passover is organized around teaching Jewish children faith in G-d and answering their questions. The order of the night is to climb fifteen steps of awareness that lead to spiritual freedom.
The fourth cup of wine is poured after everyone has finished eating and said Grace. The time is generally after midnight, but two more steps remain. The front door is opened without fear as a demonstration that "In G-d We Trust." True, these actual words are not in the prayer book, but King David composed a similar phrase thousands of years ago -- "Ye who fear the L-rd, trust in the L-rd . . ." (Psalms 115:11).
BEWARE for satan knows the WORD of GOD well
A Moment of Silence
No true education can leave out the moral and spiritual dimensions of human life and human striving. It is abundantly clear to educators and law-enforcement agents that neither intimidation nor threat of punishment can foster a deep sense of moral obligation. This can only come through the knowledge -- through education -- that there is an "Eye that sees and an Ear that hears" to Whom we are all accountable and in Whom we all trust.
When schools establish a "Moment of Silence" at the start of the school day, children have the opportunity to think about the most important things in their lives as instructed by their parents. Each child is free to use this reflection time without teacher, supervisor, or government intervention.
Jesus cut-off, satan inculcated
_____

Sanhedrin Moves to Establish Council For Noahides

18:12 Sep 28, '05 / 24 Elul 5765
By Ezra HaLevi

A council of non-Jewish observers of the Seven Laws of Noah has been selected and will be ordained by the reestablished Sanhedrin in Jerusalem this January.

B'nai Noach, literally "Children of Noah," known as Noahides, are non-Jews who take upon themselves the Torah's obligations for non-Jews - consisting of seven laws passed on from Noah following the flood, as documented in Genesis (see below).

Until now, Noahide communities and organization had been scattered around the globe, with a particular concentration centered around the southern United States. The communities themselves are a relatively recent phenomenon bolstered by the fact that the Internet has allowed individuals sharing Noahide beliefs to get in touch with one another.

proselytes two fold children of hell as their Pharisee puppet masters of the beast Sanhedrin unto the dragon who has given them their power

The court of 71 rabbis, known as the Sanhedrin, which was reestablished (cache) last October in Tiberius following the reinstitution of rabbinic semikha (cache), decided, after numerous requests from the Noahide community, to assist the movement in forming a leadership council.

Rabbi Michael Bar-Ron, with the Sanhedrin's blessing, travelled to the United States to meet with representatives of the Noahide movement and select members for the High Council. Bar-Ron, an ordained student, talmid samukh, who currently sits on the Sanhedrin, is also one of the Sanhedrin's spokesmen.

Bar-Ron organized a small conference in California where six of the council's future members were selected and also addressed the annual convention of the Vendyl Jones Research Institute - one of the Noahide organizations represented on the council. At the VJRI convention, Bar-Ron met five more of the Noahide leaders who will be joining the council.

The purpose of the council, which was the brainchild of Rabbi Avraham Toledano, is to assist the B'nei Noach in their struggle to observe the word of G-d.

the dragon they worship who comes out of the bottomless pit

"The goal is to unify, serve and organize all kosher B'nei Noach communities of the world under a single body that can operate under the direct authority and supervision of the Sanhedrin," the decision to establish the body reads. "To form a vessel through which the Torah, from Zion (via the Sanhedrin) can effectively serve non-Jewish communities around the world."

Upon seizing the reins of government, the new Noachide leaders will move quickly to implement a full agenda of reform. ... Full support will be given to Israeli forces to reinvade PLO-controlled areas, with military assistance offered where necessary. Jewish courts ... will be granted full legal sovereignty over Jewish citizens within each country, who will no longer be subject to the authority of gentile courts. The pre-existing Noachide judges and courts will replace the existing court system of each country, and the legal code will be drastically rewritten to conform to halacha.... .... And law and order will be fully restored through the establishment of internal security measures, again in accordance with Torah law. — Committee for Israeli Victory




A third goal of the creation of the High Council and the Sanhedrin's efforts in regard to the Noahide community, is to "transform the Noahide movement from a religious phenomenon - a curiosity many have not heard of - into a powerful international movement that can successfully compete with, and with G-d's help bring about the fall of, any religious movement but the pure authentic faith that was given to humanity through Noach, the father of us all," said emissary Bar-Ron.

Rv:13:4: And they worshipped the dragon which gave power unto the beast: and they worshipped the beast, saying, Who is like unto the beast? who is able to make war with him?


To that end, one of the primary functions of the council will be the creation and development of effective outreach materials for the world. Although Judaism does not require or encourage non-Jews to become Jewish, the observance of the Seven Laws of Noah is incumbent upon humanity and widespread observance is to be worked toward, even through active proselytization, something that is anathema to Judaism.

Mt:23:13: But woe unto you, scribes and Pharisees, hypocrites! for ye shut up the kingdom of heaven against men: for ye neither go in yourselves, neither suffer ye them that are entering to go in.

The council is also seeking to identify and contact communities around the world who observe the Seven Laws of Noah in order to invite them to learn more about the movement. B'nei Noach in India and Brazil are already in touch with Noahide leaders.

Asked why the Sanhedrin would reach out to B'nei Noach before concentrating on outreach within the Jewish community, Rabbi Bar-Ron answered: "There was no conscious choice to ignore the issue of outreach toward other Jews, but there is a Torah principle that a mitzva, positive precept, that comes to your hand should be fulfilled first and should not be put off. It happens to be that the group that showed the most outward display of support and genuine concern for the success of the Sanhedrin - contacting us from the very outset - were the B'nei Noach. One of the great responsibilities of the Jewish people is to spread the laws of Noach."

Bar-Ron said he had mixed feelings as he departed for the meetings with the B'nei Noach leaders, as he left the day the forced expulsion of Jews from Gaza began. "I was in such a horrible heart-wrenching pain about leaving - I almost felt like a traitor to our people. But I realized then that although the government was detaching itself from the Land of Israel - a partial annulment of our covenant with G-d, similar to the sin of the ten spies - there is another aspect of the covenant that has not been pursued. That aspect is our obligation to be a nation of priests unto the nations. This is the core of the covenant with Abraham and it is something the Jewish people as a nation has not involved itself in since Second Temple times. So as the government disengaged from the covenant, I was participating in the reengagement with an aspect of the covenant that has been dormant."

Bar-Ron was very impressed with the B'nei Noach leaders he met. "Each of them had a different unique talent. One was an extremely talented media coordinator, two were great scholars of Noahide law, one was secretary of a large successful Noahide community and research institute and one was a law enforcement officer for a number of years. Each had the wisdom and experience that will help them lead the movement.

All of the prospective members of the High Council are obligated to appear in Jerusalem this coming January, at which time they will be ordained by the Sanhedrin as members of the High Council. "One of the things I thought would be more difficult was implementing the fact that the Sanhedrin's steering comm ittee unanimously voted that the High Council members must appear personally before the Sanhedrin to be ordained as such," Bar-Ron said. "But the level of commitment of these people is so high that it is not posing a problem at all.

Each member was screened very carefully and accepted not only on the basis of their high reputation, wisdom and experience - there were many dedicated and talented B'nei Noach who we would have loved to have accepted into the council - but for their role as representatives of entire B'nei Noach communities or as experts in a particularly field.

The acting head of the Sanhedrin, Rabbi Yoel Schwartz, has set up a Beit Din for B'nei Noach to serve the needs of B'nei Noach worldwide. At this point, the council will not serve as a adjudicating body.

"It is our sincere hope that in years to come, the knowledge of the halakha, Torah law, of the Seven Laws of Noach will grow to such a degree that there will be true Noahide judges," Bar-Ron said. "One of the goals is to delineate clearly the seven laws and their applications according to the Mishneh Torah of the Rambam."

"Never before in recorded history have B'nei Noach come together to be ordained by the Sanhedrin for the purpose of spreading Noahide observance of laws," Bar-Ron said. "This is the first critical step of bringing about the ultimate flowering of the brotherhood of mankind envisioned by Noach, the father of mankind."

The Seven Laws of Noah are:

Shefichat damim - Do not murder.
Gezel - Do not steal or kidnap.
Avodah zarah - Do not worship false gods/idols.

Jesus the Christ is Lord GOD and you will see his Day of wrath reserved for you and your children, satan


Gilui arayot - Do not be sexually immoral (engage in incest, sodomy, bestiality, castration and adultery)
Birkat Hashem - Do not utter G-d's name in vain, curse G-d or pursue the occult.
Dinim - Set up righteous and honest courts and apply fair justice in judging offenders and uphold the principles of the last five.
Ever Min HaChai - Do not eat a part of a live animal.

For more information email the Sanhedrin's secretary at:

Dov Stein

Job:31:3: Is not destruction to the wicked? and a strange punishment to the workers of iniquity?

Job:34:8: Which goeth in company with the workers of iniquity, and walketh with wicked men.

http://www.thelowestroom.com/Jason/RevelationOfJesus/jesuschristch9.html

Job:34:22: There is no darkness, nor shadow of death, where the workers of iniquity may hide themselves.

Ps:5:5: The foolish shall not stand in thy sight: thou hatest all workers of iniquity.

Ps:6:8: Depart from me, all ye workers of iniquity; for the LORD hath heard the voice of my weeping.

Ps:14:4: Have all the workers of iniquity no knowledge? who eat up my people as they eat bread, and call not upon the LORD.

Ps:28:3: Draw me not away with the wicked, and with the workers of iniquity, which speak peace to their neighbours, but mischief is in their hearts.

Ps:36:12: There are the workers of iniquity fallen: they are cast down, and shall not be able to rise.

Ps:37:1: Fret not thyself because of evildoers, neither be thou envious against the workers of iniquity.

Ps:53:4: Have the workers of iniquity no knowledge? who eat up my people as they eat bread: they have not called upon God.

Ps:59:2: Deliver me from the workers of iniquity, and save me from bloody men.

Ps:64:2: Hide me from the secret counsel of the wicked; from the insurrection of the workers of iniquity:

Ps:92:7: When the wicked spring as the grass, and when all the workers of iniquity do flourish; it is that they shall be destroyed for ever:

Ps:92:9: For, lo, thine enemies, O LORD, for, lo, thine enemies shall perish; all the workers of iniquity shall be scattered.

Ps:94:4: How long shall they utter and speak hard things? and all the workers of iniquity boast themselves?

Ps:94:16: Who will rise up for me against the evildoers? or who will stand up for me against the workers of iniquity?

Ps:125:5: As for such as turn aside unto their crooked ways, the LORD shall lead them forth with the workers of iniquity: but peace shall be upon Israel.

Ps:141:9: Keep me from the snares which they have laid for me, and the gins of the workers of iniquity.

Prov:10:29: The way of the LORD is strength to the upright: but destruction shall be to the workers of iniquity.

Prov:21:15: It is joy to the just to do judgment: but destruction shall be to the workers of iniquity.

______

http://netivotshalom.org/drashot/members/Noach.htm

Adin Steinsaltz states that "To redeem the earth, evil has to be overcome by confrontation and struggle, by sorting out and purification, by the conscious effort of repentance. The spirit of evil is not so easily removed from the earth after people know sin. As in every war, victory is not so certain. The struggle of humankind is very trying because it is war from within and without. People have to struggle on two fronts at the same time, incessantly repairing themselves while trying to correct the outer world. Steinsaltz continues with an ancient analogy which provides a graphic description. "A garden is surrounded by a fence and the evil beasts are outside. The job of humans is to watch over the garden and to patrol the fence so the wild beasts do not enter. But once the fence is broken and the evil penetrates, their task is to fight the beasts, both those already in the garden and those outside trying to enter. Were people permitted to make their escape, the garden would be abandoned and go to ruin. Hence, people are not so easily allowed to get out of their responsibility. They have to stay on earth, continue to care for the garden and try to get rid of the evil they have themselves introduced.

And Fight the Nasi and his Sanhedrin beast and the dragon, I Do, armed with the WORD of GOD in my heart, forever

____

http://64.233.187.104/search?q=cache:nZdjO4_WV9AJ:www.bnainoah.net/rabbis.htm+Steinsaltz+Noahide&hl=en

Indy Jones the Proselyte of hell and Steinsaltz, Nasi of Sanhedrin the beast

Indy Jones and Schneerson the head Chabad Viper

____

http://www.chabad.org/therebbe/article.asp?print=true&aid=45597&iid=

Marching Orders
By





From a speech delivered to a gathering of American Friends of Lubavitch marking the Rebbe's 100th birthday, held at the Library of Congress, Washington D.C., March 11, 2002

We are celebrating 100 years since the birthday of the Lubavitcher Rebbe. One hundred years is a long time. It is an interval that marks change in many ways. It is a very significant number in Jewish lore, because 100 years marks a full cycle of life. One hundred years also defines a unit of historical time -- a century -- and I want to give it the recognition it deserves. I want to speak a little about that century, the century of the Rebbe.

The Rebbe's century was a time in which truly astounding things happened. The world has changed more in this century than in the thousand years before, perhaps even the two thousand years before. In the sphere of geopolitics, this century witnessed numerous earth-shaking revolutions. Totalitarian dictatorships in Russia, Germany, Italy, and Spain emerged and grew and achieved hegemony -- and all of them collapsed. The maps of the world changed tremendously over this century -- Europe, Africa, and Asia changed their faces. Almost everywhere, so much happened during this span of time, including two world wars that shattered the planet.

Thanks to the GREAT Harlot of Blasphemy and sorcery and Murder

There were changes in the spheres of thought and knowledge. The new disciplines of psychology and psychoanalysis made a lasting impact on our general culture. Abstract art, new forms of literature and computerization brought entirely new images and ideas into the human experience. Our new grasp of biology has brought about a tremendous post-modernist shift in our understanding of how we change and of the changes we generate. The theory of relativity was a remarkable insight, changing the world's perception and understanding of itself, a position from which it cannot return. It begat the atom bomb, while our understanding of biology created genetic engineering. These achievements, and so many others, hover over us as threats and as opportunities.

Taking a closer look at Jewish life, we also see great changes. Within this century, Jewish life underwent three major transformations. The first unfolded over an extended time, while its significance was not immediately evident right away, but it was quite dramatic. Following an extended period in which the Jewish people had been more or less religious, observant people, there began a clear trend away from orthodoxy. By the end of World War I, most Jews were non-observant. This is a huge change.

The second change was brought about by the Shoah, the Holocaust. The Shoah murdered the core of Jewish life: men, women and children who were the most vibrant, animated elements of the Jewish people. Six million of them -- or more -- were killed.

And then there was the establishment of the state of Israel: another unprecedented event, another tremendous change. All of these things represent dramatic alterations in the history and life of the Jewish people; nothing like them had happened in the previous thousand years.

So the political world changed, the intellectual world changed, and the Jewish world changed.

The Rebbe did not just live in the century in which these events occurred. The Rebbe participated, at various levels and in different ways, in many of them. He survived the pogroms in Russia as a child, was a young man at the time of the Russian Revolution, and escaped from Europe during the Nazi regime. His knowledge and understanding of what was happening in the world were unique. One must remember that the Rebbe could draw on vast stores of both spiritual and scientific wisdom,

devils

on his mastery of physics, biology, literature, and human nature. The Rebbe was a part of all those changes, and he was also a person who created and worked within them. He lived through the most fascinating, frightening and changeable time.

The Rebbe lived in the most difficult of times, yet he was always able to forge ahead. The Rebbe was not just aware of many of these changes; he predicted and warned against some of them.

But we must go one step further. Of course, the Rebbe was very aware of the past -- his own past, the past of his people, and the past of humanity. But with all that, he was never a man of the past; the Rebbe was always a man of the future. If you read through his many writings, you will find hints here and there about the past, but the focus and direction are on the future. He sometimes spoke about what had happened, but more about what should happen, what will happen. Some people looked at him as a symbol and a picture of the glory of the Jewish past, but this is an error. In so many ways, he was a man of the next century, a man who belonged far more to the future than to the past. And that will explain what was so very important to the Rebbe in his last years.

The Rebbe watched the world and saw and felt so much happening, so much quivering and shaking all over the world, but he did not see these developments as final effects; he saw them as preliminary tremors preceding a big upheaval. The Rebbe saw all the change and distress throughout the century as labor pains that herald an impending birth. And that was what The Rebbe had in mind when he talked about Moshiach.

The Rebbe spoke about Moshiach because he saw all the past, the century he lived through, as the preparatory rumblings before the occurrence of a huge upheaval. This is what he tried to tell people. This is the message he tried to communicate. As the years passed, he became more and more intense, more and more emphatic, about the idea that Moshiach was about to come. He saw it not only through some heavenly vision; he perceived it in observing how the world was moving, in the changes he had witnessed. He saw the movement, the suffering, and the pain as presaging a major event, a major change, and that change is the arrival of Moshiach.

Clearly, the coming of Moshiach is not a mere happening within the world; it is far more important, far more profound. In the words of the prophets, Moshiach signifies the end of days -- that is, the end of history. It marks the end of ordinary days, and the beginning of a completely new era, an era so new that nothing in the past is parallel to it. Moshiach will change history (times and laws) permanently, change human life permanently, and usher in a future that will be very different from the past.

The Rebbe was not just making conversation about Moshiach, and he was not just talking about a prophecy that he wanted to preserve. The Rebbe spoke about Moshiach because he understood that the coming of Moshiach is a process in which we must be both active participants and passive beneficiaries. It is a dual process, like birth, where you cannot specify what part comes from Above and what part comes from the inner working of the human body.

Rv:12:2: And she being with child cried, travailing in birth, and pained to be delivered.

This synthesis is what the Rebbe referred to when he spoke about Moshiach. Therefore, the Rebbe did not see "Moshiach" as a mantra to say six times or ten times a day to overcome difficult times. For the Rebbe, Moshiach was something to work on, to deal with, to fight for. That is because we are built and our history is built, from the very beginning, as the prelude toward the end of days. We are not building up to the end of human life or to the end of earthly existence, but to a tremendous change in all of that. So that is something that we must not only speak about, but something for which we must prepare.

In this context, let me address the notion of the Rebbe's "legacy." One should not use that word in talking about the Rebbe. The Rebbe did not leave a legacy. The Rebbe left marching orders. This is an entirely different concept. The Rebbe did not just leave a collection of books, videos, and speeches. He left a task to be completed, and the books and other resources provide the understanding that will enable people to carry it out.

I will try to outline some of the ideas that are in those orders, properly and correctly, and render his lofty words in simple, down-to-earth language. I believe that his is not just a personal interpretation, but is the outlook of the official leadership of Chabad. I hope, also, that this explication will be valuable for the Chabad movement, which, I believe, is larger than its organization. And I hope that these words will go beyond that, to reach the much wider community of all of those whom the Rebbe touched in one way or another, and they will cause something of a shift.

When we speak about the coming of Moshiach, we speak about a mega-event, a major phenomenon that changes everything. We may not be fully prepared and we don't know the how, what, or when of this event, but we are talking about major changes. One of the consequences of this statement is that, if we are expecting things to change in a major way, we will have to make major changes, too. And one of these changes is that we have to cast away a huge number of petty quarrels and petty issues; insignificant clashes that are not just vicious and unprofitable, but ludicrous.

Next to the truly momentous changes we are anticipating, all of our trivial arguments shrink into trifles; our disputes are comic, not just painful. I am not speaking about personal quarrels only, but about the whole notion of political trappings that you deal with in this country and that we deal with in Israel, my country. Many of the things that people fight about are the sheerest, shallowest nonsense, especially if we compare these quarrels to the establishment of an entirely different order. In that sense, whether Party A or Party B will have a particular right or a particular authority seems ridiculous. Who will remember all these foolish people who were fighting about such things? When the tsunami is about to envelop the world, no one will remember if my shop was on the west side of the street or the east side; everything will be moved.

So, the coming of Moshiach means, among other things, the casting away of internal fights. We must talk to people about what Moshiach means. We must abandon, for example, the Jewish interdenominational quarrels, many of which are associated with small, short-term calculations and evaluations: What will be better for my organization, for my little group, for my little thing in the next two, three, or five years? How will I gain a little bit more support from this rich man or the other rich man? How can I maneuver in another little way to be written up in one newspaper or another? Again, compared to the big things, all these are nonsensical.

It is even more important to talk about the future, what people are going to do, when the time will come… and the time is coming, whether we want it or not. The status quo will change, and all these petty issues will be wiped away. That means, also, there are lots of things we must do. So what do we do?

Let me start by saying something about Israel. We are stuck in a very unfortunate position. We try to move to the right, and the way is blocked. We try to move to the left, and the way is blocked. We try to go forward, but we cannot. We try to retreat, but we are cut off. So, we are surrounded and blocked on every side. There is one direction, however, that is not closed: upward. That route is still open, and we should try to move in that direction.

We should do it not just as a statement, as a slogan, but as a serious practical move toward a different way of life. This does not mean "Let's cast away all kinds of things we are dealing with and go and deal directly with the Above." It does not mean being unearthly and forgetting to eat your breakfast. (People won't forget that even in the World to Come). But we can put our lives and our rational crises in perspective, and when we put them in perspective, they will become very different, because our real notions should be with the Above.

In a more concrete way, it means being genuinely concerned about, and working for, every segment of society, not just in details, but in major areas of society: addressing the rifts among ethnic groups and the growing gap between the rich and the poor; making education (not just knowledge) a primary and universal ambition, and bringing the whole country - not just a segment of it - to an awareness of the Divine.

Come to Pharaoh Moshiach

It also means being careful not to use the Almighty to achieve narrow benefits (even praiseworthy ones), but to remember that all of us, right and left, are the people of G-d.

Rv:13:8: And all that dwell upon the earth shall worship him, whose names are not written in the book of life of the Lamb slain from the foundation of the world.

In a more emphatic way, this is the direction and an order for the Lubavitcher movement, a movement that has to continue to progress. So much has been done; so much has been achieved. In some places, the achievements are marvelous, unimaginable. In some places, it is like seeing the flowering of the desert, where Jewish life seemed to be dead, and it has been revived.

But all that is not enough, by far not enough, because we are now talking about a much bigger process. We cannot now stand still and gloat. It is true that when one Jew puts on a pair of tefillin once in his lifetime, there is a new light in the world. It is true that when a Jew eliminates one non-kosher food from his diet, even though he is not abstaining from other non-kosher things, this is a gain, an advance. But we now have to talk to people not only about small changes, but about major changes, about transforming completely.

2Cor:11:14: And no marvel; for Satan himself is transformed into an angel of light.

2Cor:11:15: Therefore it is no great thing if his ministers also be transformed as the ministers of righteousness; whose end shall be according to their works

We have to face them; they have to see themselves as Jews. It is not easy to make such changes; it is sometimes quite difficult to suggest them, but now is the time to do it. We don't know when, in two years or ten years, but something great is happening. And if we are to be prepared, then we have to tell people to throw away all the nonsense, to stop indulging in things that are not important, to start to go a different way. That means both those who dedicate their lives to this work and those who are volunteers. That means speaking to those who are here and to many more who are not.

We have to start talking now about changing, not just about turning, but about returning on a big scale. "On a big scale", means that it is not sufficient to make token gestures, for example, to say to an older man, "Do me a favor and send your grandchild to study in cheder for two hours." Rather, this is about reaching people in a deeper and more meaningful way, getting them to change their lives, to set their priorities where they should be set, and to put their efforts where they should be put, because a time is coming when these are the things that will count, and most of the rest will not matter at all. It will be a different reality; things won't be the same. We have to tell people about it. We have to say it again and again in a most emphatic way. This does not mean that we must invalidate what we are doing; we must just work on a much grander scale. We have to act in a much more urgent way. These ideas have to be expressed not only to individuals, but also to organizations, to groups, to the Jewish community at large. We have to repeat the call of the sixth Rebbe: "Teshuvah now -- redemption now." Whatever has been done is not enough. It is never enough. It has to be done ten times as much, if we want to be ready for the time.

There is something else we must say, something that has to do with our attitude about the world. The Rebbe began, but we have to continue to say it, not only to our own Jewish brothers and sisters, but to all of humanity: We have to talk about what are called the Seven Noahide Commandments, the seven laws that the Almighty gave Noah after the Flood.

the ASSYRIAN SNARE of the fables of the jews

These commandments are for all humanity, for every human being. We should speak about these commandments not just to one individual, as if we were selling merchandise, but to all the peoples and the nations of the world, so that we can change the world. Our goal is not to give a compliment to the Rebbe. A new and different world will come in a short time, and we have to address it. We have to tell people that a different time is coming, a time when different things will count. We must get everyone to keep the basic Noahide laws, the laws of nature and the laws of the Divine, and we must bring the people together. This is what we have to tell individuals and nations.

to worship the Talmudic beast

How can we do it? Because the Rebbe is behind us, in a sense doing and saying these things. It means recognizing that now is the time to go to others and to ourselves, and pay attention to the big things and the important things, and to let the small details go.

Our sages tell us, in reading Genesis 49:33, that "Our father Jacob did not die."

deader then a door nail

The idea is that, as long as there are Jews in the world, the seed of Jacob is alive, living within us.

Heb:8:9: Not according to the covenant that I made with their fathers in the day when I took them by the hand to lead them out of the land of Egypt; because they continued not in my covenant, and I regarded them not, saith the Lord.

Heb:8:10: For this is the covenant that I will make with the house of Israel after those days, saith the Lord; I will put my laws into their mind, and write them in their hearts: and I will be to them a God, and they shall be to me a people:

Heb:8:13: In that he saith, A new covenant, he hath made the first old. Now that which decayeth and waxeth old is ready to vanish away.

In everything we do in our lives, a small minuscule part of him lives within us. We say in our prayers "David, the King of Israel, is alive and enduring", which means the kingship of David never died. Someone could kill the last Jewish king, but no one can destroy the kingship of the Jewish people. The kingship is still alive, still here. We may be downtrodden, we may be kicked, but the kingship of Israel continues. In that sense, I would say that the Rebbe implanted his spirit in so many people, that his dreams, his visions, his insight, and his tremendous desire continue. If we sustain his utmost desire to bring about that big change, then we can say that the Rebbe lives on. The Rebbe is here, when we are here and we are doing all the things that he left in his marching orders. He said we should advance. He said we should not walk, but we should run. We should attack. He said we should go further.

We should do it, and we will do it.

___

The RED Sofiet Treason and Blasphemy of Washington DC

http://www.15minutesmagazine.com/archives/Issue_35/events_0204-07.htm


Dov Zakheim (right) with
Chaplain Col. Jacob Goldstein and
Larry Spiewak.

Rabbi Israel Lau (center),
Rabbi Tuvia Teldon and Larry Spiewak.

Rabbi Tuvia Teldon and
Stanley Shuckman.

Lubavitch assembly on Pentagon lawn.

AMERICAN FRIENDS OF LUBAVITCH
Rebbe Didn't Leave Legacy,
He left Marching Orders

Story and Photos By Tim Boxer

N a recent flight to Los Angeles, Larry Spiewak of Brooklyn found himself next to Bill Cosby. "What do you do?" the actor asked. "I manufacture those annoying little T-shaped plastic tags you find on merchandise," Spiewak said.

"From that you make a living?"

"I'm sitting with you in first class, aren't I?"

Spiewak, who sports a stubble, found himself last week in the

thick of black beards and black hats on the lawn of the Pentagon. He joined some 500 Chabad Lubavitch shluchim (emissaries) from 40 countries who gathered to commemorate the terrorist attack six months ago.

Judah, Aholibah the enemy of Dan Aholah of the Hassidic Sanhedrin

Actually they were in Washington to commemorate the centennial of

Rabbi Menachem Mendel Schneerson's birth with two days of lectures and a bit of sightseeing, hosted by American Friends of Lubavitch under the direction of Rabbi Levi Shemtov.

Under Secretary of Defense Dov Zakheim, who'd been briefly in the running as Yeshiva University president Norman Lamm's successor, was one of the speakers at the Pentagon gathering.

Calling America "the greatest country in the world," Zakheim delivered a dvar Torah (sermon), expounding on the halachic (Jewish law) requirements of a poor man bringing a meal offering in the Temple.

Chaplain Jacob Goldstein, who's been on duty at New York's Ground Zero since day one, said he joined the Army 26 years ago at the Lubavitcher Rebbe's insistence.

Many of the Hasidim scrambled to have their picture with Israeli Chief Rabbi Israel Meir Lau. When his escort said it was time to get back to the car, Lau sighed, "If they will let me – I'm here as a hostage."

At lunch in the Capital Hilton, Max Kampelman, chairman of the American Academy of Diplomacy, said the essence of the Mideast problem is "political ignorance."

"To call the West Bank 'occupied territory' is an outrage," he said. "No one refers to Kashmir or Cyprus as occupied territory. These are areas in dispute.

"There is no legitimate excuse to call Israel's presence on the West Bank as 'occupied.' Both Arabs and Jews have historic claims to the area. Our task is to educate."

Hadassah Lieberman said her husband, Senator Joe Lieberman, could well appreciate the Lubavitch global presence.

"My husband was in Tashkent and went out to look for a minyan so he could say Kaddish. There was a minyan there –

thanks to Lubavitch."

In a lecture in the Library of Congress,

Rabbi Adin Steinsaltz called upon the Jewish world to cast away petty interests and prepare for "the big change, the coming of Moshiach."

"I'm talking about changing your life," he said.

"The Rebbe did not leave a legacy. He left marching orders."

| | |
| --- | --- |
| American Friends of Lubavitch | |
| | |

Address:
2110 Leroy Place Northwest
Washington, DC 20008 USA
Phone:
202-332-5600
Fax:
202-332-5642
Web:
www.AFL.us

______

SOLD out Apostate Amaraka by Judeo-Churchinsanity

_____

Pure 100% TREASON and Blasphemy unto the dragon

http://www.afl.us/AboutUs.html

The Washington Office of American Friends of Lubavitch coordinates an array of activities, in addition to serving in our nation's capital as the representative office of and advocate for the international Chabad-Lubavitch movement.

With over 2500 offices in 44 states and over 60 countries, Chabad-Lubavitch is the largest network of Jewish educational and social service institutions in the world.

Projects of the Washington Office include the Capitol Jewish Forum, The Jewish Festival Awareness series, The National Chanukah Menorah on the Ellipse, the Jewish Campus Support Center and a host of other programs designed to reach out and strengthen the sense of Jewish awareness in Washington's unique community , and support of Jewish life worldwide.

One of our innovative projects, the Capitol Jewish Forum, is now the largest Jewish group on Capitol Hill. Its mission is to enhance the identity and sense of community among Jewish Congressional staffers and Members of Congress and the Administration, regardless of affiliation. The acquisition and renovation of our new premises in Embassy Row - Kalorama, has further expanded the work of the Washington Office.

_______

http://thomas.loc.gov/cgi-bin/query/z?i108:I00308:i108AMERICAN.html

AMERICAN FRIENDS OF LUBAVITCH (organization)



Remarks in House


Cohen, Arnold: American Friends of Lubavitch (organization) Lamplighter Award recipient, E1726 [29SE]

SPEECH OF

HON. BENJAMIN L. CARDIN

OF MARYLAND

IN THE HOUSE OF REPRESENTATIVES

TUESDAY, SEPTEMBER 28, 2004

Mr. CARDIN. Mr. Speaker, I rise today to pay special tribute to two leaders in the Baltimore Jewish Community. Arnold Cohen and Marty Resnick have been life-long friends who together and separately have worked to make our community and our world a better place.

Childhood friends since first grade, Arnold and Marty have a remarkable friendship that has lasted more than sixty years. As successful businessmen, they turned their attention to the benefit of others in Baltimore and Israel. They became leaders in the Mercantile Club, Israel Bond and The Cohen/Resnick Institute of the Diaspora Yeshiva in Jerusalem. Separately, Arnold devoted his efforts to Ner Tamid and Beth Tfiloh congregations, and Marty became active with Morgan State University.

On October 20, both will be honored by the Friends of Lubavitch as its 2004 Lamplighter Award recipients. In recent years, Arnold and Marty have turned their attention to the Lubavitch movement, helping Jews of all backgrounds learn more about their heritage. Both Arnold and Marty understand the importance of connections and of keeping Judaism alive for future generations.

I hope my colleagues in the U.S. House of Representatives will join me in thanking Arnold Cohen and Marty Resnick for their commitment and dedication to helping others. They understand that the world can be a better place through learning, knowledge and understanding.



Resnick, Marty: American Friends of Lubavitch (organization) Lamplighter Award recipient, E1726 [29SE]

_______
http://www.c-spanstore.org/shop/index.php?main_page=product_video_info&products_id=180348-1

Tower of Babble: The United Nations


larger image
Product ID: 180348-1
Format: Speech
Event Date: December 14, 2004
Location: New York, New York
Last Aired: September 18, 2005
Length: 1 hour, 5 minutes
Sponsors:
American Friends of Lubavitch
Sonnenschein, Nath & Rosenthal
Appearances:
Gold, Dore - President, Jerusalem Center for Public Affairs
Rappaport, Eric - Senior Adviser, American Friends of Likud
Summary:
Ambassador Gold talked about his book Tower of Babble: How the United Nations Has Fueled Global Chaos, published by Crown Forum. This event was hosted by the American Friends of Likud and held in a law firm. Mr. Gold argued that the United Nations was unfit to combat terrorism, fight aggression, and preserve global order. After his discussion, he answered questions from members of the audience.

But now the UN is totally controlled by SANHEDRIN the TRUE Mystery Babylon

__________

BUT NO CROSS of Christ Allowed

http://www.doi.gov/news/05_News_Releases/041207_menorah

Remarks Prepared for Delivery
By The Honorable Gale Norton
Secretary of the Interior
Lighting of the National Menorah
December 7, 2004
AS DELIVERED

[Introduced by Rabbi Levi Shemtov: Director, Washington Office of the

American Friends of Lubavitch]

Thank you for the opportunity to join with you in this annual celebration of this Festival of Lights.

As the landlord, it is great to see happy users of our lands.

I am especially pleased to be here on this silver anniversary of lighting the National Hanukkah Menorah. For the last two-and-a-half decades, the golden flames of this menorah have lit the lands of

our Capital City.

The Capital is so often a place where our differences and disagreements occupy our attention. During this season of peace and joy, it is time to put our differences aside, and to reflect on where we as human beings fit in God's creation.

Hanukkah reminds us of the power of a single act to

illuminate the world. Twenty-five years ago, this national tradition was struck by a spark set by the American Friends of Lubavitch.

Isa:50:11: Behold, all ye that kindle a fire, that compass yourselves about with sparks: walk in the light of your fire, and in the sparks that ye have kindled. This shall ye have of mine hand; ye shall lie down in sorrow.

But tonight's light was actually kindled more than two thousand years ago, as our young essay winners described so well.

The Maccabees seemed far too small to conquer a great army. But the flames they kindled leaped across the land, bringing hope and winning freedom.

A lamp, which only had enough oil for a single day, lit the temple for eight. Other days of darkness have come to the Jewish people. But each year, the eight candles of Hanukkah are relit. They have outshone the darkness of persecution; they have outlasted the darkness of tyranny. They continue to light the world today.

Jn:1:7: The same came for a witness, to bear witness of the Light, that all men through him might believe.

Jn:1:8: He was not that Light, but was sent to bear witness of that Light.

Jn:1:9: That was the true Light, which lighteth every man that cometh into the world.

Jesus the Christ the LIGHT of the WORLD

The candles shine with the message of hope, with the promise of freedom. They remind us of those who are even now defending our freedoms - all the brave people who fight violence and terror. They are truly our candles against the darkness.

them they send to fight the wars for satan

All across our nation, families will gather - mothers, fathers and children - to enjoy the warmth and love of this holiday season.

Jesus will consume your unholy Hanooka....REPENT in His Mighty Name apostate Amaraka

We will give thanks that we are blessed with religious freedom, to openly observe religious traditions. That freedom is spreading around the world.

Yes indeed by HJR 104, PL 102-14 to enslave all mankind to the dragon the freely serve

Eight nights from now, the lights of Hanukkah will again be extinguished. But they will take with them the hope of renewal, the promise of a single spark.

On behalf of the President, the Vice President and the administration, I wish you a very happy Hanukkah.

Thank you.


_______

They are about to make a move

Grand Jury in CIA Leak Case Adjourns...
Prosecutor Meets With Chief Judge...
'NO NEWS TODAY ON 'CHARGES''...
WASH POST: Bush Aides Brace...
FT: Indictments in CIA leak case 'about to be handed down'...
CIA leak investigators hold last-minute interviews with Plame neighbors...
ConocoPhillips Oil profit up 89%...

Lust for gold has reached record levels worldwide...

Emergency Supplies Are Dwindling...

Blair Issues More Warnings To Syria And Iran

23 Bush Administration Officials Involved In Plame Leak

_______

AS Predicted.......not by my "Prophecy" because all PROPHECY IS written UNTO THE end

Fitzgerald Indictments Could be Coming Down Today; Bush Acting Like Stalin in 1953,

Claiming A Foreign Cabal Is Out to End His Presidency

Sherman Skolnick, the first to report on the Bush administration indictments months ago, claims

Bush may be on the verge of a psychatric breakdown. He also claims Bush is saying 'the Jews, the French and a foreign cabal' are out to destroy him.

AHOLIBAH

26 Oct 2005

By Greg Szymanski

Chicago investigator and 'judge buster,' Sherman Skolnick, who once brought a former Illinois governor to his knees, putting him behind bars, is up to his old truth-telling tricks again, saying he's received credible reports President Bush is on the verge of a psychiatric collapse over U.S. Attorney Patrick Fitzgerald's pending indictments.

Skolnick said Bush has been ranting and raving in the White House, claiming "the Jews, the French and a foreign cabal" are conspiring to take down his Presidency and are behind the well-known and imminent Fitzgerald indictments.

"If anybody remembers Stalin back in 1953, Bush sounds just like him," said Skolnick this week from his Chicago home. "He's on a sinking ship and he knows it. I've gotten reports that when the indictment comes down he may leave the country and go to Alice Springs , Australia , a well-known CIA base of operation."

Other reports, circulating from Washington insiders, claim the President is "emotionally unstable, totally absorbed with the fall his of presidency and "living on cloud nine" unable to focus on anything but Fitzgerald and his indictments which are going to reveal "the lying and illegal nature" Bush plunged America into war.

Skolnick also claims that Bush will not take the dignified way out and resign like President Nixon, but will go down "fighting and screaming' or finally be convinced to go into forced exile.

"He won't go easy, that's for sure. And the indictments, including Bush and Cheney, could come down as early as this week and perhaps Wednesday," said Skolnick. "Reports are Bush also has made a last ditch effort to go to the Supreme Court to have the indictments quashed but only two of the nine high court justices were in favor of listening to his story."

Skolnick, well-known for his hard brand of investigating government corruption since the 1960's, was the first to go public months ago with the story of the Fitzgerald indictments taking down Bush and his cronies, going forward with the story when many called his reporting and investigating "over the edge and baseless."

However, Skolnick again has been "proved right," as even the mainstream press and those in the Republican party close to Bush have acknowledged Fitzgerald's indictments are not "hype" but are, in fact, a reality about to soon take place.

"I've heard reports, which have also surfaced in the "Capital Hill Blues" reports that Bush's aides say he is flying off the handle and out of control," said Skolnick. "Also my sources tell me that Bush, behind closed doors, is trying to tell the federal court in the District of Columbia that a foreign cabal is behind the indictments, trying to take his Presidency.

"He's obviously losing it and if anyone saw him at his recent press conference, when he was questioned about indictments and refused to answer, he is definitely not all there. "Also, Gordon Liddy recently said on the Sean Hannity Show that Bush 'ought to be put in a monkey cage' and Chris Matthews acknowledged the indictments are for real and Bush is on the hot seat."

This week other reports surfaced that Bush lawyers tried to get the federal court for the Eastern District of Columbia to quash Fitzgerald's indictments but were unsuccessful on both occasions.

Sources close to the case said Bush's personal lawyer, Harriet Miers, made an unsuccessful plea to the court to stop Fitzgerald in his tracks, a move judges felt had no legal basis.

Skolnick added that when Attorney General Alberto Gonzalez recently met with Fitzgerald, seeing the severity of the indictments, he immediately disqualified himself from the case, refusing to sign or issue the indictments against his colleagues in the White House.

Other sources close to the case said 22 indictments are expected to be released, going far beyond just the leaked evidence outing CIA agent Valerie Plame, but exposing the

treasonous acts of Bush and others regarding the illegal nature of the Iraq War and doctoring of WMD intelligence reports leading to the unjustified invasion which has left thousand of soldiers and civilians dead as a result.

While you are INDICTING, Indict all, every Congressman and WOMAN and Every Chabad Lubavitcher in the United States of America, as well as Clinton, Carter, Bush I

Skolnick claims politicians from all corners of the country are "reading the writing on the wall,' trying to distance themselves from Bush, who basically is being left to drown in his own pool of political.

Skolnick claims all bets are off as to Bush's successor, but he added the indictments will tarnish the administration so badly that "the ninth man down in the chain of command," being an obscure position in the agriculture department, could possibly wind up as President after the political dust finally settles.

Greg on the Radio.

Listen to my Radio Broadcast live every Monday night at 8pm Pacific time on LewisNews Radio. Look for program scheduling each week at http://webs.lewisnews.com/radio/index.htm. Greg is also a weekly regular on "The Power Hour with Joyce and Dave," a three-hour syndicated daily radio broadcast on the Genesis Network, broadcasting on many AM/FM stations nationwide. Greg appears every Monday at 7a.m to 8a.m. Pacific time.

Streaming audio can be heard at:

Internet: http://www.m2ktalk.com ; http://www.whri.com

On-air call in numbers for our listeners:

U.S.: 800-259-9231

International: 952-707-9960x125.

On Oct. 3, Greg will be starting a daily afternoon show on the Republic Broadcast Network, airing on shortwave, low band FM and on the internet. Go to www.rbnlive.com for information.

Greg Szymanski is an independent investigative journalist and his articles can been seen at www.LewisNews.com. He also writes for American Free Press www.AmericanFreePress.net and has his own site www.arcticbeacon.com. Greg has a live Radio show every Monday night on mms://media.LewisNews.com/Greg and on mms://media.LewisNews.com/RadioLewisNews at 8 pm Pacific time. Greg is also looking for sponsors for his popular new show and he can be contacted at patriott2424@aol.com. On Oct. 3, Greg will be starting a daily afternoon show on the Republic Broadcast Network, airing on shortwave, low band FM and on the internet. Go to www.rbnlive.com for information.

Greg Szymanski

_______

The War ahead

_______

http://www.breitbart.com/news/2005/10/26/D8DFUJB0A.html

White House on Edge in CIA Leak Case
Oct 26 4:39 PM US/Eastern

By DEB RIECHMANN
Associated Press Writer


WASHINGTON


The prospect of indictments against White House officials in the leak of a CIA officer's identity created anxiety in the West Wing on Wednesday as Bush administration officials worked to conduct business as usual.

The White House is waiting to find out the results of Special Counsel Patrick Fitzgerald's two-year criminal investigation that has entangled officials close to President Bush and Vice President Dick Cheney.

Lawyers representing key White House officials expected Fitzgerald to decide as early as Wednesday whether to charge I. Lewis "Scooter" Libby, Cheney's chief of staff, or Karl Rove, the president's top political adviser and deputy White House chief of staff.

In a White House known for its discipline, the prolonged watching and waiting for the grand jury's action has created a palpable tension.

Bush himself has said the investigation has created "background noise" that officials are trying to tune out to focus their attention on Iraq, terrorism, hurricane relief, the Supreme Court nomination of Harriet Miers and economic worries.

Both Rove and Libby, who is hobbling around on crutches because of a broken bone in his foot, joined other officials at the daily White House senior staff meeting, as usual. Rove was jovial, playfully smiling (Gloating in Talmudic defiance) and standing to salute a colleague he passed while walking between the White House and the Eisenhower Executive Office Building next door.

"Everybody's focused on the priorities of the American people," White House press secretary Scott McClellan said. "We're focused on the work at hand. We're certainly are following developments in the news but everybody's got a lot of work to do.

cause it's haerd woerk

"The president has a number of meetings he's been participating in this morning focused our highest priorities."

The president and Cheney met in the Oval Office on Wednesday with Zalmay Khalilzad. Later, the president was meeting with lawmakers to talk about congressional spending decisions. He was also scheduled to sign a bill addressing gun manufacturers' liability, give a speech to the Economic Club of Washington and meet with the prime minister of Macedonia.

The grand jury that Fitzgerald has used in the investigation is set to expire Friday. Fitzgerald could charge one or more presidential aides with violating a law prohibiting the intentional unmasking of an undercover CIA officer. In recent weeks the prosecutor has also examined other charges such as mishandling classified information, false statements and obstruction of justice.


______

http://news.bbc.co.uk/2/hi/americas/4377916.stm

US grand jury meets over CIA leak

Charges - if brought - may not be announced for several days

The US jury investigating the leaking of the identity of a serving CIA officer has held talks with a prosecutor on whether to bring charges.

Special prosecutor Patrick Fitzgerald and the federal grand jury discussed the outcome of his two-year inquiry.

They adjourned without comment, but it is thought charges would in any case not be announced until later this week.

The FBI has also conducted interviews, apparently aimed at building a case against White House officials.

Mr Fitzgerald has the power to deal a crushing blow to President George W Bush by linking two of his most senior advisers to allegations of criminal misconduct, accusations which would force them to resign, correspondents say.

What about PRISON for HIGH TREASON?

Lawyers for Karl Rove, the president's closest political aide, and Lewis Libby, the vice-president's chief of staff, say their clients have done nothing wrong.

'Cheney's role'

The inquiry has focused on whether there was an illegal effort to undermine the credibility of a former ambassador, Joe Wilson, who was critical of the Bush administration's policy on Iraq.

It is investigating the circumstances behind the public naming of the wife of Mr Wilson, Valerie Plame, as a CIA agent.

Karl Rove is the president's closest political aide

According to a New York Times report, Mr Libby had first learned of the CIA officer in a conversation with Vice-President Cheney weeks before her identity became public in a newspaper column.

The White House refused to answer questions about Mr Cheney's role in the case.

The BBC's Justin Webb says it would now be a very big surprise if charges were not pressed.

Everything points to a decision having been made to prosecute one or more White House officials and it looks as if the charges might be very serious, possibly including the crime of outing Ms Plame, he says.

Neighbours of hers in Washington have told reporters that only this week FBI agents were asking questions about whether the neighbours knew of Ms Plame's work before it was leaked to the press.

They said they did not.

This line of questioning suggests that the special prosecutor is trying to make a firm case that a serious crime was committed, not merely that officials were uncooperative during his investigation.

______

Now all hell is to break loose. The Hassidim are putting bush in the corner, that little horner

What will he do?

Will he attack that foreign Cabal of Judah, Aholibah?

Will he spill the beans about them who struck the WTC?

Will he attempt to take ITSREALHELL's whore city by force?

But fall

and the Hassdim double cross him and "REVEAL" their beloved Moshiach ben satan?

_______

Watch out for the hens at the gate

and the "j'birds who sit on the fence

______

section 14 "The Protocols of the Illuminated Elders of Tzion"

section 16 "The Beast Has Risen"
Wall Street " The Mark" is Here

It has happened "War Declared upon and in America"

"All you ever need to know about their god and Qabalah"

ADDED Material 3-25-2004 Prophecy Unfolding

A Sincere Request to "Rapture" Teachers

Compulsory Constitutional Cremation

Homeland Security, "The Police State"

The Babylonian Talmudic Mystical Qabalah

How will they do it- " The false-christ"

"Summation" The beginning of sorrows has begun

Satan's Tales "Wagging the Global Dog"

"Satan's Plan", Protocols of Zion ( of course they will dispute it's authenticity)

I Witch, New One World Order Seal

Satan's Enforcers of Quaballah

The Seed of God or the Seed of Satan, Your choice by faith

I AM, the Revelation of Jesus Christ

National Organization Against Hasidic International Talmudic Enforcement

Where's Da Plane Boss, wheres da plane?

The Tarot Card Killer of Olam Ha Ba
The Federal Reserve, Fed up with the Fed?
The Protocols Today. Dispute this, Liars !
Letter to a friend "It's not the Jews Dummy"
The "Son's of the Synagogue of Satan"Chabad Lubavitch
The Chabad Satan Wall of Destruction
Columbia "The Queen of Heaven"
The Infiltration of the leaven "Jerusalem Council"
One World Religion Part 5 Religion Part 7 Religion Part 7
Obedient Ishmael Kislev 19, 5764
The Lord of the Ring, the Return of the Talmudic king
Changing the Time and the Laws
The Leaven of the Chabad Lubavitch Chassidim Pharisees
"Replacement Theology" of Judaic Talmudism
Eating Rainbow Stew with a Silver Spoon, underneath a Noahide Sky
Letter to Bob Jones and President Bush and all televangelist
Noahide News Part 76
ALERT ALERT ALERT
The Revelation of Jesus the Christ the LORD God and His Father
Noahide News Part 143 THE JEWISH RELIGION Its InfluenceToday
Noahide News Part 161
Noahide News Part 168
Alert ! Noahide News Part 169 Alert ! Alert ! false Elijah cometh?
Noahide News Part 170
Noahide News Part 190 Alert ! Alert! Alert!
Noahide News Part 197 Alert Alert Alert !
Noahide News Part 203Alert Alert Alert !
Noahide News Part 204 Alert ! Alert ! Alert!
Noahide News Part 220
Alert ! Alert!
Noahide News Part 222 Alert ! Alert!
Noahide News Part 224 Alert! Alert!
Noahide News Part 227
Noahide News Part 228 Alert! Alert! Alert!
Noahide News Part 230 Alert ! Alert!
Alert ! Alert ! Alert!
Noahide News Part 295 Alert ! Alert!
Noahide News Part 303 yap yap yap
The Revelation of Jesus the Christ the LORD God and His Father